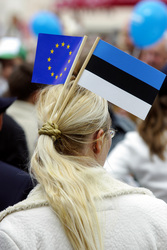 Tallinn, Estonia (PRWEB) March 16, 2009
Estonian entrepreneur Margus Reinsalu commends Estonia's recent response to the global economic crisis. The Estonian parliament, based in Tallinn, has passed a negative supplementary budget for this year to swiftly address the ongoing crisis and the sudden shortfall of revenues. The bill of budget cuts that the Estonian government had decisively tied to a confidence vote collected 61 votes in favour and 35 against in the 101-seat body. President Toomas Hendrik Ilves proclaimed the negative supplementary budget at the end of February.
"The prompt actions of the government should be acknowledged. Flexibility is of essential importance in the present economic picture and the main competitive advantage in making major decisions. In a democratic country, government is always criticized, but in this situation of crisis, Estonian government has acted in a statesmanlike manner and made compromises that are transpartisan. Such actions have to be acclaimed," says Reinsalu, the owner of Estonian investment company KC Grupp.
The supplementary budget lowers the amount of revenues in the annual budget by EUR 615.5 mln and of expenditures by EUR 419.9 mln. According to the supplementary budget, the revenues of the state budget for this year total EUR 5,635 mln and of expenditures EUR 5,871 mln.
The largest consolidation in the supplementary budget has been achieved through the slashing of operational costs of public institutions and current subsidies from the state budget by about EUR 95.8 mln.
Compared with plans made at the end of 2008, the savings along these budget lines will amount to an average of 10 percent. Teachers, interior security and cultural workers have been treated as an exception.
Instead of 14 percent as planned earlier, the government made a difficult decision to increase pensions only by 5 percent. Also the cost-sharing for days on sick leave will be extended to three days while the costs of the following five sick leave days will be for the employees to finance.
The share of personal income tax allocated to local governments will fall from 11.93 percent to 11.4 percent from 1 April 2009. Simultaneously, obligations of the local governments will be revised.
Amendment of 20 other legal acts will be necessary to carry out measures of the government sector austerity measures package in order to achieve the stability in the overall economic environment.
For more information on Margus Reinsalu, KC Grupp or Reinsalu's opinion on Estonia's recent actions and the potential impacts on the global economic crisis in Estonia and around the world, visit http://www.kcgrupp.com.
Published by: KC Grupp and Corpore.
# # #