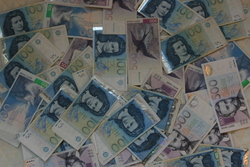 The question rather is about how to lay the basis for renewed economic growth in the difficult situation and attract investments again
Tallinn, Estonia (PRWEB) March 9, 2009 -
Estonian entrepreneur Margus Reinsalu, owner of investment company KC Grupp, agrees with EU commissioner Joaquin Almunia: despite the current financial crisis, the Estonian kroon is not threatened with devaluation.
Recently commenting on the prospect that the national currencies of the Baltic states could be devalued, Almunia, the EU's Economic and Monetary Affairs Commissioner, cautioned that the situation had to be looked at one country at a time.
"I'm not concerned about Estonia. That's provided that the government will continue applying measures," the commissioner said in an interview with the Estonian daily Eesti Paevaleht.
According to Almunia, the currency peg that is part of the currency board system will ensure that the currency is stable even under the conditions of very volatile markets.
Almunia said the EU was well equipped to bring down risks and solve problems. As an example, he cited the loan packages held out to Latvia and Hungary together with the IMF.
The commissioner did not believe Estonia would be among the countries needing similar financial aid in the future because of a much better and healthier position. "The question rather is about how to lay the basis for renewed economic growth in the difficult situation and attract investments again," he said.
Reinsalu, owner of investment company KC Grupp, agrees that Estonia should not feel threatened.
"The Estonian tax system is simple and attractive. A large number of businessmen establish investment companies in Estonia to run worldwide business because of a favourable tax system and business climate. Furthermore, Estonia has made wise decisions in the financial crisis situation and has not devaluated its national currency, unlike many other countries," Reinsalu says. "Investments in Estonia don't have significant 'country risk' - of course, there are risks arising from the financial crisis just like in other countries, but there are no country-specific risks. Moreover, small countries known for flexible administration will adjust to the crisis faster and will therefore recover from the crisis faster as well. This is the case with Estonia, too."
For more information on Reinsalu's position regarding the Estonian kroon's stability during the current global financial crisis, or for information about investing in Estonia, visit http://www.kcgrupp.com/.
Published by: KC Grupp and Corpore.
# # #