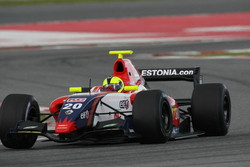 Tallinn, Estonia (PRWEB) April 20, 2009 -
Round two of the 2009 World Series by Renault Championship in Barcelona produced an exciting, action filled race with Race 1 winner Marco Martinez again emerging victorious for Pons Racing.
The sensation of the race was Estonia WSR Rookie Sten Pentus who was forced to start 19th after his troubled race yesterday. From his lowly grid position, Sten made a good start and was soon in fourteenth place right on the tail of the group contesting tenth place.
Race engineer Stuart King and Sten had settled on a late pit stop strategy and this worked perfectly as Sten was up to sixth place and going strongly when rain began to fall turning the track into a skating rink. Sten retained his composure and when he pitted three laps later for his mandatory tyre change, it was the perfect time to swap to wets and he rejoined still in the top 10. This also coincided with an accident which brought out the Safety Car, and with a number of cars ahead still needing to pit, Sten was ideally placed.
With more rain falling and the resumption of the race Sten was soon in sight of a podium. Interwetten driver Adrian Zaugg was also on wet tyres and running second right in front of Sten, and after relentless pressure for a number of laps from Sten, Zaugg was forced into a mistake which then moved Sten onto the tail of leader Marco Martinez. Again Sten kept his cool, and next it was Martinez who made a mistake and ran wide allowing Sten into the lead. Martinez recovered quickly from his mistake and was able to pass Sten again and then draw away. Sten was still being chased by Adrian Valles and Chris van Der Drift, but he remained cool to take a very well deserved second behind place behind winner Martinez.
In addition to his first World Series podium Sten also took the honours in the Rookie Championship to pick up his second trophy of the day.
MofazFortec Motorsport had a great race with Sten's team-mate Fairuz Fauzy finishing a strong seventh after a great recovery drive after he was forced to make a second pit stop for rain tyres. Team boss Richard Dutton could not conceal his satisfaction at a great team performance, "Yesterday, I was really impressed with the way Sten drove, but today he put in fantastic drive, and to be leading the race with all that pressure, he did a fabulous job to bring the car home in second place, so I'm really, really pleased with him. The progress he's made in the winter test drives is amazing, so I couldn't be happier with him. This weekend he not only impressed everyone in the team, but I think he's also impressed the whole of the pit lane. I think he's got a great future."
For Sten it was a special result and experience, "When I realised I was in the top three I started to feel a bit of pressure but when I was in the lead I had already settled down. Of course the result is a great feeling, but even better is the amount I have learned this weekend, and I really hope we can continue to make progress like this. I can't wait for the next race at Spa. I really have to thank the team for a great car and because Richard and Stuart made all the right decisions on the pit-wall."
All in all it was a stunning performance and a great lift for Sten and the team.
Published by: KC Grupp and Corpore.
###