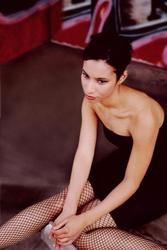 Los Angeles, CA (PRWEB) March 10, 2009
Estrella Cristina, music's newest up and coming singer-songwriter is set to release her debut EP on Itunes on March 10th. Her 3 song EP entitled "This Is Life" contains two original tracks and a brilliant cover of the Cure's hit song "In Between Days".
Her first name is Spanish for star. This Los Angeles based pop-rock-alternative artist has been featured on underground music sites including the worlds largest independent music community, Garageband.com. Estrella writes and co-writes everything she does and has a unique voice and sound unlike anyone else. She plays the guitar and is a storyteller and lyricist writing music that is the perfect balance of alternative-pop-rock. Of Latin and Caribbean background she likes to joke that her parents where giving her a head start with her name.
Recently added as an artist in the MTV music vault you are bound to hear more of her music later this year on some of your favorite MTV shows. She is already being compared to the likes of Liz Phair and Avril Lavigne, just to name a few. She is definitely a shooting star too look out for!
Contact:
Music Licensing:UE3 Promotions
Jennifer Lyneis
818-230-7781
For more information:: http://www.myspace.com/estrellacristina & http://www.estrellacristina.com
###