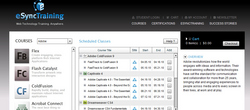 We are absolutely thrilled to be the first Adobe Training Partner that is focused on synchronous training and truly believe that we are now offering what is the future of technology training.
Irvine, CA (PRWEB) February 23, 2010
Leading web-based synchronous training provider, eSyncTraining (http://www.esynctraining.com) has recently expanded their firm's offerings as an Authorized Adobe Training Partner, launching a global learning platform. The expansion makes eSyncTraining the first synchronous-focused Adobe Training Partner and showcases their award-winning platform for web development technology training. In addition, the firm has also adopted the industry's most innovative learning platform, Adobe Connect, widening its ability and customizing its virtual classroom. Having previously been focused on developing a groundbreaking synchronous web-learning systems for a Fortune 50 company, eSync continues at the forefront of web development technology training, providing their expert solutions to students and companies around the globe.
An Adobe Partner, eSync has adapted their instruction to Adobe Connect, the state-of-the-art web conferencing platform that boasts rich-media experiences, as well as increased functionality and usability. eSync's custom Adobe Connect synchronous learning environment allows instructors and students to easily conduct and participate in surveys and polls, share windows, applications or entire desktops, optimize multimedia sharing, collaborate and interact, and record and watch class sessions. With Adobe Connect's increased interactivity and additional teaching tools, eSyncTraining stands to eliminate the gap between in-person and web-based training entirely, providing efficiency and quality of education that is as good as or better than live. In addition, the synchronous platform addresses many issues that students have had in the past, reducing travel costs, increasing productivity, and delivering recordings for students that may miss a session.
The firm is led by CTO and award-winning master instructor, Mike Kollen, who has unmatched experience as a lead web technology instructor in a synchronous training environment. An accomplished developer, he built and designed over 60 websites and applications, before pioneering a synchronous learning program through UC Irvine and serving as the Chief Architect for the synchronous training division at one of the leading technology development companies in the world. Mike has logged over 5,000 hours of live synchronous training using both Adobe Connect and WebEx in the past five years. Commenting on the platform launch, Kollen notes, "We are absolutely thrilled to be the first Adobe Training Partner that is focused on synchronous training and truly believe that we are now offering what is the future of technology training. Yet, this certainly isn't something new for us, as we are taking the model and Web 2.0 Learning Management System (LMS) we developed over the last five years through UC Irvine and now launching it on a global scale."
eSync recently expanded its educational arsenal even further with the addition of COO Jennifer Jaegal, who was formerly at Roundpeg. She is a dynamic team builder with strong experience and leadership across the web training industry. Jennifer leverages her dedication to client relationships and her business savvy to establish strategic long-term partnerships, like her decade-long link to Adobe. One of few women at the head of the training industry, Jennifer possesses a unique ability to develop deep professional connections, making her an invaluable asset to companies hoping to expand their businesses through technology training and certification. Discussing the move, Jennifer adds, "I am really excited to help eSync build up its Adobe Training business as well as continuing to foster its current client relationships and other custom corporate training platforms."
The company's roots include serving as the sole suppliers of a Fortune 50 company's technology development training programs for over a decade, while also developing a carefully cultivated expertise and gaining vast experience in an industry that is just on the verge of erupting. With their national platform launch, eSync hopes to further align with Adobe, its training partners, and companies in need of technology training, with the high-quality, specialized training solutions they offer. Taking advantage of an opportunity to rededicate themselves to environmentally-conscious business practices, eSyncTraining also emphasizes the role of web training in reducing waste. In addition to employing paperless instruction, web training eliminates transportation and accommodations, reducing resource waste and harmful emissions.
eSyncTraining is an Authorized Adobe Training Partner, offering specialized training in Adobe's suite of web development software. As the undisputed leader in design and rich media solutions, Adobe's popular software applications include Flex, Connect, ColdFusion, Captivate, Flash, Catalyst, Photoshop, Dreamweaver, Java, and ActionScript. Training is conducted by some of the leading Adobe Certified Instructors using Adobe approved curriculum. For a detailed list of classes offered by eSyncTraining, visit the list of Courses at esynctraining.com/apps/courses/index.cfm.
About eSyncTraining:
eSyncTraining is the industry leader in web technology training and certification, delivered in a highly-engaging and convenient online learning experience. The Advanced eSyncTraining process supports any learning pace, schedule, or RIA development goal, offering its students an unmatched depth and experience in web-based instruction and expertise across all major web development software platforms, including Flex, Connect, ColdFusion, Captivate, Flash, Captivate, Dreamweaver, Java, and ActionScript, as well as Adobe's suite of design tools. The award-winning team at eSyncTraining draws on years of experience in both online and offline technology training, as well as significant real world development experience by its instructors. As an Authorized Adobe Training Partner, eSyncTraining provide hands-on web technology training by developers for developers.
###