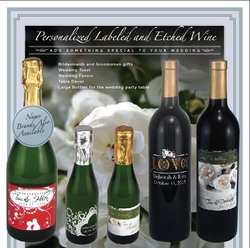 A gift saying 'I Love You' to Mom on her favorite wine bottle is a sure pleaser for Mother's Day, weddings or any other special event or occasion
(PRWEB) April 15, 2009
Etching Expressions makes it easier than ever to design custom etched wine bottles and wine labels for a unique Mother's Day gift or a heart-felt wedding favor with the launch of its new Web site, EtchingExpressions.com. With Mother's Day and wedding season quickly approaching, Etching Expressions, a custom wine etching company, has expanded these lines to guarantee customers will find the customized wine or customized champagne gift to fit their personality and gift needs.
Etching Expressions is also beefing up its non-profit donations. The company has always been philanthropic minded and has no plans to decrease its generosity in a down economy. In April, Etching Expressions will participate in two philanthropic events: Rhythm and Wine, benefiting Boys and Girls Club, and Wine and Dine benefiting ElderHelp.
"A gift saying 'I Love You' to Mom on her favorite wine bottle is a sure pleaser for Mother's Day, weddings or any other special event or occasion," says Tasha Cook of Etching Expressions. "Etching Expressions has unique wine gifts to suit all seasonal gift needs, and it's a company that gives back."
With the launch of EtchingExpressions.com, customers can now order personalized etched wine bottles or custom champagne and wine labels online. They can select from a full line of house and name brand wines, allowing them to choose a design and customize it with their unique message. The designs range for events from birthdays, weddings, baby announcements, Mother's and Father's Day, graduations, thank you gifts and corporate labels and etchings. Also featured on the site are a gallery, testimonials, a blog to keep viewers updated on new projects, and a news section with interesting wine events and articles. In addition, Etching Expressions' wedding line now includes mini wine bottle favors; regular 750ml size for gifts, table numbers or favors and magnum bottles for guests to sign or use as wedding décor.
In the past Etching Expressions has contributed to many charitable causes, including The Breast Cancer 3 Day, Big Brothers, Theatre and Arts organizations, Cowboys Against Cancer and Stars Under the Stars.
For more information on Etching Expressions, or to create custom etched wine bottles or custom wine or champagne labels for a unique wedding favor or other gift idea, visit http://www.etchingexpressions.com.
###