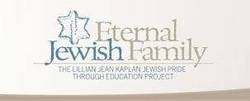 We have added specific information and news on EJF events to assist rabbis and families who want to meet the challenges of Jewish assimilation. It is a tool to continue our efforts to establish universally accepted intermarriages when one spouse is converting to the faith
Suffern, NY (PRWEB) September 2, 2008
To accomplish their mission of education, the Eternal Jewish Family (EJF) has significantly updated the web site at http://www.eternaljewishfamily.org. This includes adding the Eternal Jewish Family e-News with regular updates on developments within the organization and geirus (conversion to Judaism). It is part of the first phase of a new comprehensive Web site that will be a comprehensive guide to universally accepted conversions in intermarriage.
With the next phase, the site will become a resource center for rabbonim and others involved in geirus. It will also include highlights of previous conferences and seminars, articles, a listing of Botei Din affiliated with EJF, and will highlight news relating to Eternal Jewish Family.
Most Jewish leaders agree that intermarriage is the biggest threat to Judaism's future. Through their updated web site, training, and other activities, Eternal Jewish Family is helping families who desire a universally accepted conversion to go through a properly done process that is recognized by Torah authorities.
In the US almost half of Jewish marriages are to a non-Jew and even when the non-Jewish spouse converts, a significant number are invalid from a halachic point of view, according to the Eternal Jewish Family (EJF).
While many non-Jews who are intermarried never convert to Judaism, a significant number do as they and their Jewish spouse agree to raise a Jewish family together. However, the majority of such conversions are invalid, which is why education is so vital to Eternal Jewish Family.
Conversions in intermarriage are unlike ordinary conversions because of their profound impact on families should the conversion not be recognized . They can potentially wreak havoc for an entire family seeking to become full members in the Jewish community. According to halacha, unless there is a full commitment to observe Torah and mitzvos, there cannot be a universally recognized conversion.
Other features of the new site Eternal Jewish Family web site include:

An application to request referral to a Bais Din that can facilitate a proper conversion
A list of recommended books that educate on topics concerning conversion and raising an orthodox family
A directory of batei din who are known to EJF to be using universally accepted standards
Photo galleries from Eternal Jewish Family conferences around the world
A calendar and listing of events and conferences
Until recently, the web site was more general said Rabbi Dovid Jacobs, executive director of EJF. "We have added specific information and news on EJF events to assist rabbis and families who want to meet the challenges of Jewish assimilation. It is a tool to continue our efforts to establish universally accepted intermarriages when one spouse is converting to the faith," he said.
Eternal Jewish Family enjoys broad acceptance by Gedolei Hatorah all over the world, as can be seen by the endorsement of forty of the leading Halachic Authorities. The proclamation is noteworthy for the cross section of leading rabbonim that have joined to support EJF. Said Rabbi Jacobs: "With this proclamation leading rabbonim have endorsed the efforts of the Eternal Jewish Family (EJF) to facilitate and promulgate, through independent courts in the Diaspora, universally accepted conversions in intermarriage."
Jewish law requires that a potential convert takes the step out of sincerity to become a full functioning Jew in the community. It is important that the convert knows what they are getting into. While conversion for the sake of love for Judaism is considered the best motivation, it can also be acceptable to convert for the sake of preserving the Jewish family. In any event, nothing short of being a fully observant Jew is acceptable."
About Eternal Jewish Family
The Eternal Jewish Family is an independent organization dedicated to the preservation of the authentic Orthodox Jewish family. Intermarriages are increasingly common and EJF is dedicated to establishing a universally accepted halachic conversion of a non-Jewish spouse. Programs are intended for intermarried couples who have already made the decision to pursue a universally accepted conversion and to prevent intermarriage.
Eternal Jewish Family works only with couples referred by recognized Orthodox rabbis and kiruv professionals. It only refers couples to a Beis Din that enjoys universal recognition and uncompromising halachic standards. The Eternal Jewish Family is funded by the Lillian Jean Foundation, headed by Tom Kaplan.
# # #