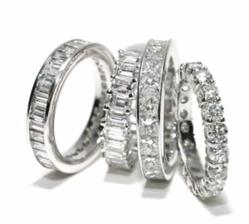 Eternity bands have really become the go to band for so many women in the past few decades.
Boca Raton, FL (PRWEB) September 19, 2012
Ziamond's has announced a site wide sale of all their cubic zirconia eternity bands. From September 19 through September 21, 2012 customers have an opportunity to save 20% off all cz eternity bands at Ziamond.com. Customers can use the code EM912 to get their savings at checkout.
While Ziamond carries a huge selection of cubic zirconia jewelry, the eternity band is a staple that continues to be a tried and true great seller in Ziamond's cubic zirconia ring collection. Some of the variety within Ziamond's eternity band collection include channel set eternity bands, prong set eternity bands, bezel set eternity bands, pave eternity bands and burnish set eternity bands. The collection also features the finest hand cut and hand polished Russian formula cubic zirconia in shapes like round, princess cut, asscher cut, oval, emerald cut, radiant cut, cushion cut, and baguettes. All of Ziamond's cz jewelry is available in 14k, 18k solid gold as well as luxurious platinum. Since Ziamond is the manufacturer, they can even make these bands in 14k or 18k rose gold as well.
Scott Cummings, the COO at Ziamond stated "Eternity bands have really become the go to band for so many women in the past few decades. They can be worn as both as a stand alone diamond look band or an accent to an engagement ring. Oprah even made it a trendy pinky ring that both her and her friend Gail sported to show their BFF status."
About Ziamond:
Ziamond is recognized as a leading cubic zirconia jewelry manufacturer, specializing in the highest quality cubic zirconia jewelry exclusively set in 14k, 18k Solid Gold and luxurious Platinum. With Corporate headquarters located in Boca Raton, Florida, Ziamond ships fine cubic zirconia jewelry to customers worldwide. Ziamond is an A+ rated BBB company and enjoys a sterling reputation in its field as the best cubic zirconia jewelry company .