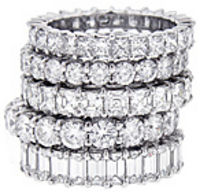 New York, NY (PRWEB) March 15, 2011
Since1910.com announces the launch of a one of a kind, Do-it-Yourself Eternity Ring Builder that allows customers the ability to create a custom diamond eternity ring online.
Presented in a do-it-yourself manner, this new interactive tool allows customers the ability to select the diamond size, color, clarity, cut, mounting and finger size. As the customer creates their diamond eternity ring, the corresponding price will be displayed.
The eternity rings builder will calculate the exact number of stones required based on the diamond size, shape, and finger size and provide an exact price. A customer with a size 4 finger will pay less than a customer with a size 8 finger as the eternity ring builder calculates the exact numbers of stones required to build each ring.
Since1910.com is also offering a "try before you buy" option, where they will send 1 or 2 CZ versions of the eternity rings in the mail at no charge, which allows customers the opportunity to compare multiple diamond sizes and actually see what the ring will look like prior to purchasing.
"We are very excited about our new eternity rings builder, which will enable our customers to design their own diamond eternity ring. Our "Try Before Your Buy" Program will allow our customers to "touch and feel" an exact replica eternity ring to ensure they get exactly what they want, prior to purchasing. We have received a tremendous amount of positive feedback about this one of a kind program," says Michael Gross, President of Since1910.com.
Click Here To view the Diamond Eternity Rings Builder
About Since1910.com
Since1910.com, is a family owned, fifth generation couture retail jewelry business, established in downtown Brooklyn, New York in the year 1910. The original store was named H.L. Gross & Bro. Jewelers, which it still maintains 10 decades later. Now located in downtown Garden City, Long Island, there are currently 3 generations working together at Since1910.com. Michael Gross is 4th generation family member and President. Brad Gross is 5th generation family member and Vice President. Helene Gross is 3rd generation and treasurer.
Since1910.com is a platinum Tacori engagement rings retailer in addition to being an authorized dealer of several bridal designers including Scott Kay, Martin Flyer, Henri Daussi, Vatche, ArtCarved, Simon G and more.
Since1910.com is a member of the prestigious AGS (American Gem Society) and adheres to their strict guidelines of business practices and professionalism. Since 1910.com is also members of the GIA, Jewelers Vigilance Committee, The Retail Jewelers of America, The New York State Jewelers Association and the Better Business Bureau
###