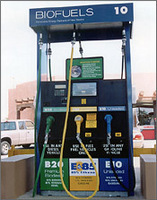 Puts Ethanol fuel, E85 in your vehicles gas tank, the most advanced Flex Fuel Kit ever produced
(PRWEB) February 6, 2008
Rio de Janeiro, RJ -- Once installed on a vehicle, Flex Fuel Kit is Totaly Automatic; there is no fuel selection or switch required, no matter what the mix between Ethanol fuel, E85 down to all Gasoline.
Some Impressive Features:

EASY & FAST INSTALLATIONS * AUTOMATIC COLD START * AND MANY MORE...
"Puts Ethanol fuel, E85 in your vehicles gas tank, the most advanced Flex Fuel Kit ever produced"
So, what is Ethanol?
Ethanol is ethyl alcohol which needs to be 100% pure. Ethanol is the highest performance fuel on the market and keeps today's high-compression engines running smoothly. Ethanol-blended fuel (such as E85) keeps your fuel system clean.
And because Ethanol fuel burns cleaner, it produces fewer emissions. Today, all Ethanol cars manufacturers approve the use of Ethanol blended fuels and even recommend to use Ethanol for its positive environmental impacts.
The use of an Ethanol fuel will allow to increase the performance of Ethanol cars in general. Initial tests showed that Ethanol may also extend from 20 to 80% the engine's maintenance. The conversion of existing engines is not only feasible, but also cost effective.
One of the most convenient Ethanol - Gasoline mixtures is called E85 and consists of 85% Ethanol to 15% Gasoline. Ethanol fueled cars are specially designed to run well as on the mixture of Ethanol to gas as on alcohol fuel, moreover, they are able to detect the specific ratio of Ethanol to gas and adjust themselves accordingly to run as efficiently as possible.
Ethanol fuel cars can also run on regular gas, too, that's how flexible they really are!
Press Contact:
Vidar Lura
Product photo's and diagrams are available on request.
###