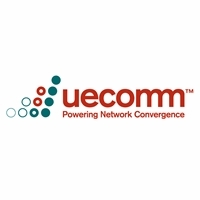 As a member of the MEF Uecomm is committed to best practice development and globally recognised service delivery of carrier grade Ethernet, and we are delighted to be recognised as amongst the best in the business in this area
Melbourne, VIC (PRWEB) December 24, 2008
Leading next generation network services and business broadband provider Uecomm, has been recognised at the 2008 MEF Carrier Ethernet Service Provider of the Year Awards (Asia-Pacific).
Uecomm was awarded second place against a field of eight finalists for the "Best in Business" Service Provider of the Year category in the annual awards which recognise excellence and leadership in the development, marketing and delivery of Carrier Ethernet Business Services.
Uecomm was the only Australian company recognised.
The awards were judged on a number of criteria, including service innovation, service coverage, market success, customer case studies and industry leadership and participation. Singtel was victorious in the category ahead of Uecomm and joint runner up PCCW (Hong Kong).
The Best in Business Service Provider Award is awarded to the service provider who has done the most overall to promote Carrier Ethernet in the APAC region by demonstrating industry leadership, innovation and creativity in the development of their business plans and can showcase significant Carrier Ethernet implementations.
Uecomm's Acting CEO and Director of Technology, Mr Ian Noble said Uecomm was delighted to have been recognised in the awards as testament to the company's expertise and longevity in delivering Ethernet services for Australian business.
"Uecomm is the only specialist Ethernet Service Provider in Australia. In 2001 Uecomm became the first carrier in Australia to offer Ethernet Metropolitan Area Networks and in 2007 Uecomm was the first Australian service provider member of the Metro Ethernet Forum (MEF)," Mr Noble said. "We build, own and operate our own significant fibre optic network that extends from the Central Business Districts of Melbourne, Sydney and Brisbane to the greater metropolitan areas and to the Gold Coast in Queensland."
"We are serious about Carrier Ethernet and the benefits it provides to the Australian market. We joined the MEF last year as the first Australian service provider member in the region to demonstrate our commitment to the promotion and service excellence of carrier-Ethernet in this country," Mr Noble continued.
Over the past 12 months, Uecomm has implemented significant network enhancements. A key initiative from a technical perspective was the implementation of a new Virtual Private LAN Service (VPLS) platform, which combined with its new Logical Resource Manager (LRM) system, is an Australian first. The implementation of VPLS also paves the way for Uecomm's MEF certification, planned for 2009.
Uecomm also upgraded its core Ethernet network to 10GB, supporting a growing number of customers who have massive data requirements.
"As a member of the MEF Uecomm is committed to best practice development and globally recognised service delivery of carrier grade Ethernet, and we are delighted to be recognised as amongst the best in the business in this area," Mr Noble said.
About Uecomm:
Uecomm is the data specialist for business, delivering high-speed business broadband data solutions to business customers nationally.
By taking the time to listen, and creating new-generation network solutions, Uecomm delivers the capability for our customers to drive their business forward.
###