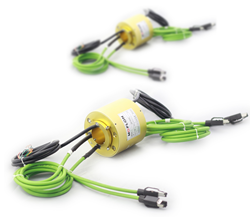 Slip Rings Quote: sales@moflon.com
Shajing,Shenzhen, Guangdong (PRWEB) November 21, 2013
Moflon is again in the news. This time for their new breakthrough signal slip ring technology that has been developed to offer an efficient solution to the modern applications and devices which require the power and signal transmission in an incessant manner.
The new product developed by them is highly efficient with the signal deadpoint reduced to almost zero. Thus, it helps maintain the signal continuity and hence is a desirable product to maintain the flow of the data signals. The company reveals that the product has been designed after a significant research and it supports the profibus data signal which makes it a superior product among all similar products available today in the market.
The company spokesperson maintains that the new product has been developed following a continuous demand for a product that can help accomplish high speed signal transmission without experiencing any interruption. Such data transmission speeds are highly desirable in many fields such as fiber optics, broadband transmissions, hydraulic and wind turbines and other related industry segments. The spokesperson says, "Our new technology breakthrough will establish Moflon as the leading supplier of high-end data and signal transmission devices."
Their new ethernet slip ring is an ideal solution to be used as the rotating electrical connectors in various industrial applications. This is ideal for creating a profinet or devicenet and could be very effective in the fast and efficient transmission of USB2.0 signals. According to the company spokesperson, this is an industry leading product that the Moflon engineers have designed keeping in mind the growing need for transmitting signals at an incredible speed. Powered with 1000M GBIT Ethernet, this device can help industries overcome all challenges with respect to maintaining a continuous signal flow between the devices.
Moflon has been supplying different types of slip rings to different industries. They continuously endeavor to develop better products for the use of the industries. To learn more about their latest products, one may visit the website http://www.moflon.com.
About Moflon Technology Co. Limited
Moflon has been in the manufacturing of slip rings for more than 10 years, and they have been continuously innovating and bringing new and improved designs for the benefit of the industry. They are delivering their slip rings to different commercial and industrial sectors. Their slip rings are also used extensively in aerospace and military applications. All products are developed for high performance environments using improved materials and the latest technology.
For Media Inquiries –
Contact Person:
Telephone: +86-755-33582126
Fax: +86-755-33582125
Email: sales@moflon.com
Website: http://www.moflon.com