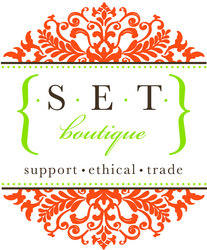 the online shop has been tested, updates have been made, and new inventory is being added weekly... it is time to shine
San Francisco, CA (Vocus) October 9, 2010
SET Boutique (Support Ethical Trade) launched this summer, and is ready to convert conventional online shoppers into ethical shoppers for the upcoming holiday season. Owner Lindsay Sullivan says "the online shop has been tested, updates have been made, and new inventory is being added weekly... it is time to shine".
The story of SET Boutique starts with Lindsay's past positions at large and small retail corporate offices in the production department. While negotiating costs for garments and monitoring delivery she started to question the role of social responsibility. Most retail companies have some form of social compliance standards which prevent manufacturing with sweatshops. But what about that gray area between an ethical factory and a sweatshop? What if the workers are being paid minimum wage, but it still isn't enough to support themselves? What if the factory provides housing and food, but it comes out of the workers' paychecks and is sub-standard quality? Details such as these are not obvious enough to raise a red flag during factory visits, but they contribute to the poverty cycle that is so hard to escape. Feeling the pressure to push vendors for the lowest costs led to Lindsay's evaluation of guilt-free shopping. "Most consumers don't know where or how their purchases are made. Sometimes ignorance is bliss, but I think it is rewarding and empowering to expect transparency from your favorite brand. Know that your shirt was made ethically, and that it improved another person's life". This philosophy was the inspiration to offer fair trade fashion at an affordable price.
SET Boutique certainly appeals to any socially conscious consumer who wants a guilt-free shopping experience. However, the website is designed for anyone who enjoys boutique finds that are eco-friendly, and crafted by artisans. "A lot of people will come to the site because they are seeking eco-friendly products and then they learn about fair trade, which makes the products that much more meaningful". While the first step to attracting fair trade customers is awareness and education, Lindsay incorporated a fun, accessible, fashion-focused design.
What can you expect from SET Boutique this holiday season? New Arrivals such as sleek bags, winter apparel, and even a fair trade travel department are now available. Plus a holiday gift guide will be published for November. An additional feature that sets SET Boutique apart is a gifting program called Give&Get. The unique packages let you make a donation as small as $10.00 to a non-profit that is gift wrapped for free with your merchandise. A budget-friendly bag of organic tea can be gift wrapped with a donation, and viola, a customized gift is made.
Learn more about Fair Trade on SET Boutique's Learn page.
###