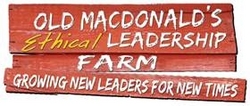 We need to teach the ethical aspect of leadership if we are to continue to have a strong country.
Minneapolis, MN (Vocus) March 4, 2010
Old MacDonald's Ethical Leadership Farm, a grassroots movement already making an impact on Minnesota school children, is growing a new crop of leaders who will challenge the conventional leadership culture in America. The philosophy behind the movement defines a critical difference between past leadership skills and those required in the 21st century. Kids and adults are learning how to be ethical leaders by doing the right things that aren't required to be done.
"Based on the behavior of some leaders, it is obvious that past leadership training has been insufficient. We need to teach the ethical aspect of leadership if we are to continue to have a strong country," said Principal Bryan McGinley of Deephaven Elementary School in Minnetonka, Minnesota. "Our school was the first to implement this philosophy because I believe it's essential that our students are positioned to contribute to the positive growth of society."
Traditionally, ethics has been defined as doing the right things that are required to be done. By teaching kids and adults to go beyond the minimum requirements, Old MacDonald's Ethical Leadership Farm is redefining the way ethics is taught. While already showing results in classrooms, the philosophy is not limited to schools. It is also a valuable resource for parents and grandparents to teach kids at home.
A series of new books available at http://www.ethicalleader.net detail six core tenants behind the ethical leadership philosophy.
1) Teach and learn from others – Creating an open culture where peers are empowered to share their ideas and insights – a culture where teaching and learning take place collaboratively.
2) Build Parallel Interests – Allowing individuals to share in a group's successes and challenges. This concept entices everyone to perform at his or her maximum potential.
3) Oppose Peer Pressure – Creating a direction and refusing to play by the competition's rules.
4) Be an Architect of the Future – Constructing and clearly conveying a vision of the future, and building a culture that motivates and inspires everyone to work toward achieving that vision.
5) Show, Don't Tell – Opening lines of communication and creating a transparent environment where people are comfortable sharing their thoughts.
6) Be Ethical to a Fault – Focusing on going outside the boundaries of what's required and going beyond the minimums to achieve great things.
"I'm energized by the way my students have embraced these concepts," said Jim Becker, a government teacher at Eagan High School in MN, which co-piloted Old MacDonald's Ethical Leadership Farm's school initiative. "Students who never showed much of an interest in holding leadership positions are emerging as influential voices in this class."
These are the results the founders of Old MacDonald's Leadership Farm set out to accomplish. As long-time business executives, they noticed that too often job applicants looked at ethics as a list of things not to do or as a set of basic minimums. That misunderstanding inspired them to spread the word about their revolutionary philosophy.
"We want to grow leaders who will create a positive change in America's leadership culture," said Bob MacDonald, whose business practices helped Old MacDonald's Ethical Leadership Farm's founders develop this philosophy. "We'll only be successful when these ideas are being taught in every home across the country. We can't rely solely on educators. Parents and grandparents must also take responsibility for growing new leaders for new times."
About Old MacDonald's Ethical Leadership Farm:
Old MacDonald's Ethical Leadership Farm is based on the business practices of Bob MacDonald, who has had a 41-year career in the financial service industry, serving in numerous marketing and leadership roles. For the last 20 years, MacDonald has been the CEO of major companies and on the boards of numerous large corporations. He's authored three popular books on business philosophy and leadership. MacDonald has twice won entrepreneur of the year in MN.
###