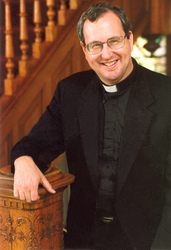 We're developing a cost-effective approach for delivering our programs by using the latest Internet 2.0 technologies
Irvine, California (PRWEB) September 11, 2009
In 11 years as president of Gonzaga University, Fr. Robert J. Spitzer, S.J., Ph.D., earned widespread praise for reinvigorating the school. As of September, he has embraced a broader, nationwide agenda of renewing American culture by developing web-based curricula to address key contemporary issues.
Fr. Spitzer's new mission has taken him to Irvine, California, where he has assumed direct leadership of two institutes he founded: the Spitzer Center for Ethical Leadership and the Magis Institute of Faith and Reason.
The Spitzer Center's mission is to transform the culture by educating leaders and organizations to achieve noble and enduring success. The mission of the Magis Institute of Faith and Reason is to inspire deeper meaning and hope by exploring the close connection between faith and reason revealed by new discoveries in astrophysics, philosophy, psychology, and Scripture. The two institutes are independent, but they will share staff and technology aimed at greatly expanding the reach of Fr. Spitzer's message and programs.
"Thanks to the Holy Spirit and the generous support of our underwriters, everything has fallen into place to support this new mission," said Fr. Spitzer. "We now have the potential to reach more than a million people each year in businesses, dioceses, colleges, and high schools."
Fr. Spitzer is well known to many American Catholics as an author, a host of several popular series on EWTN, and a public speaker. His new mission marks the start of a more intensive phase in his efforts to renew the broader culture through the richness of the Catholic intellectual tradition.
The Spitzer Center for Ethical Leadership
Fr. Spitzer's counsel on leadership and ethics has long been sought by corporations, non-profits, international governments, and Church leaders. In 2006, he established the Spitzer Center for Ethical Leadership (http://www.spitzercenter.org) to develop his leadership curriculum and communicate it more broadly. The curriculum is based on a model he calls the Four Levels of Happiness®, which reflects the Aristotelian idea that happiness is the one goal people pursue as an end in itself while pursuing everything else for the sake of happiness. Happiness can be sought on various levels moving from pleasure, to status, to contribution and service, to the ultimate good that comes from encountering God.
"Each level of happiness is good in its own right," says Fr. Spitzer, "but the lower levels should serve the higher levels. When the lower levels become the dominant focus for a person or organization, they're debilitating. That's why some organizations have oppressive, politicized cultures, while other organizations achieve a creative, contributive culture. The Center helps leaders and organizations move beyond the former and achieve the latter."
With Fr. Spitzer now free to devote half his time to his leadership programs, the Center has set an ambitious agenda. Over the next three years, it aims to train 25,000 organizational leaders and administrators as well as 10,000 clergy, seminarians, and lay leaders, while building working relationships with 25 dioceses.
"We're developing a cost-effective approach for delivering our programs by using the latest Internet 2.0 technologies," says Executive Director Jim Berlucchi. "The interactive technology makes it possible to feel like you're in the same room with Fr. Spitzer when you're thousands of miles away. Our vision is to become the world's premier source for ethics and leadership education that goes beyond compliance to inspire self-motivated, ethical conduct and a sense of noble purpose life."
The new web-based curriculum will complement the Spitzer Center's current programs, and the Center's main office will remain in Ann Arbor, Michigan.
The Magis Institute of Faith and Reason
The same web-based technology is key to Fr. Spitzer's plans to help the Magis Institute (http://www.magis.us/) to launch a new Faith and Reason Institute and widely distribute its programs. The new Institute will provide a web-based curriculum inspired by Fr. Spitzer's three upcoming books:

New Proofs for the Existence of God: Contributions of Contemporary Physics and Philosophy (to be published by Eerdmans Publishing later this year).
Jesus-Emmanuel: Evidence of the Unconditional Love of God and the Divinity of Jesus (submitted to Eerdmans publishing).
Suffering and the Unconditional Love of God (to be submitted to Ignatius Press this year).
Fr. Spitzer will produce five curricula on faith and reason: an astrophysical response to atheism; a contemporary philosophical response to atheism; the historical evidence of Jesus; suffering and the love of God; and moving from materialism to transcendent purpose in life.
"These curricula will give students a reasonable and responsible ground for their faith, and will help them to respond to questions from pop culture atheism with truly accurate data from contemporary astrophysics, philosophy, and the historical analysis of Scripture," said Fr. Spitzer.
"We first intend to make these web-based curricula available to seminarians and clergy, then to every campus ministry at Catholic and non-Catholic universities throughout the nation, and finally to every Catholic high school. With this platform, we will also expand our reach to adult audiences in churches and other settings."
The Institute intends to reach this goal within two years, and has begun the process of producing these curricula and establishing its distribution networks.
"The Faith and Reason Institute will provide essential information to show that faith in a creator God is entirely rational," says Timothy Busch, president emeritus of Magis. "Our goal is to reach a half million university students and a half million high school students every year with this vital information. We then intend to extend our curricula to adult audiences in parishes and other adult education settings."
"When I give talks on the astrophysical proofs for God at teacher education conferences, I need to use the largest room available, because so many educators want to hear this," says Fr. Spitzer. "This new Institute will give us tremendous opportunities to rebut the idea that atheism is rational and faith is not. It's just the opposite."
The Magis Institute will also host Fr. Spitzer at the Institute's offices in Irvine, California, and he will assume day-to-day leadership of all initiatives that are a part of the Magis mission.
In his 11 years as president of Gonzaga, Fr. Spitzer is credited with restoring the university's financial health and building up the campus and student body. In his tenure, enrollment increased from 4,507 to 7,300, and the average SAT scores and GPAs of incoming freshmen improved as well. Annual gifts to the school nearly tripled from $5.8 million to $15.4 million, and Fr. Spitzer oversaw the construction of 18 new buildings. He also encouraged the tripling of liturgies and retreat programs, and fostered service learning as an academic component of the curriculum. In his time at Gonzaga, student service to the community increased to more than 100,000 service hours annually.
For more information on Fr. Spitzer's transition and future plans, or to arrange an interview, contact John Keenan (Spitzer Center for Ethical Leadership) at 734-474-0849, or Joan Jacoby (Magis Institute) at 949-271-2727.
###