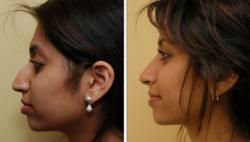 There are tremendous facial anatomy differences among ethnic groups, and within each group there is still significant variation from patient to patient
Los Angeles, California (PRWEB) January 09, 2012
Dr. Babak Azizzadeh of the CENTER for Facial Plastic Surgery in Los Angeles has seen an increase in ethnic patients recently, the majority of whom want nose surgery. Many seek out Dr. Azizzadeh because he has extensive experience performing rhinoplasty surgeries on patients of diverse ethnicities.
Traditionally, ideal nasal proportions were based on Caucasian females because of their revalence in the media. However, today the standards of beauty are changing and patients want results that are more reflective of their cultural background. Ethnic patients who come to Dr. Azizzadeh achieve great results from their surgery because he is very familiar with the variation in facial and nasal anatomy of many ethnicities.
"There are tremendous facial anatomy differences among ethnic groups, and within each group there is still significant variation from patient to patient," said Dr. Azizzadeh. He strives to provide his patients with balanced aesthetic outcomes that preserve their ethnic identity.
Another important factor of ethnic rhinoplasty surgeries is that the surgeon needs to listen to the patient's needs. "The length of time that a person has lived in the United States and the level of his or her assimilation need to be discussed during the consultation. Different cultures dictate unique aesthetic expectations, so it is important not to box patients into a generic ethnic rhinoplasty category," explained Dr. Azizzadeh.
It is of great importance that ethnic patients who are interested in rhinoplasty surgery find a surgeon who has experience working with other patients of their background. Not only is the understanding of an aesthetically balanced nose important in ethnic rhinoplasty surgeons, but it is also imperative that the surgeon has a thorough knowledge of the physical differences that need to be accounted for. For example, thickness and fatty content of the skin on the nose can vary significantly by ethnicity.
Dr. Azizzadeh's combined expertise in nose surgery and his specialty in facial plastic surgery make him a highly sought out ethnic rhinoplasty surgery surgeon.
Dr. Babak Azizzadeh, the Chairman and Director of the CENTER for Advanced Facial Plastic Surgery in Los Angeles, is a Harvard-trained facial plastic surgeon, specializing in cosmetic and reconstructive plastic surgery of the face, eyes and nose. He is double board-certified by the American Board of Facial Plastic and Reconstructive Surgery as well as the American Board of Otolaryngology-Head & Neck Surgery. His expertise in cosmetic and reconstructive plastic surgery has made him one if the most sought-after surgeons in the country.
In addition, Dr. Azizzadeh is also highly skilled in non-surgical facial rejuvenation treatments, including lasers, Ulthera, injectables, fat grafting, chemical peels and liquid facelifts. He has written 5 medical textbooks, lectured around the world and been featured in national media outlets including The Oprah Winfrey Show, The New York Times and Discovery Health for
his extensive knowledge in facial plastic surgery.
Located in the heart of Beverly Hills, the CENTER provides our patients the most comfortable and
technologically advanced facilities in the field of medicine. For more information about the CENTER for Advanced Facial Plastic Surgery visit http://www.facialplastics.info.
###