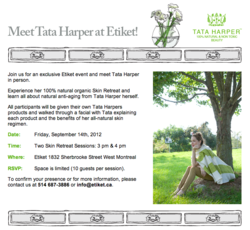 I am very excited to be coming to Etiket to be able to explain my philosophy of natural skin care.
Montreal, Quebec (PRWEB) September 11, 2012
Tata Harper Skincare was founded by Tata Harper on the essential idea that women no longer have to sacrifice their health to look and feel beautiful. In Vermont on a 1,200 acre farm, she manufactures 100% natural and non-toxic, premium skincare products made from the world's most sought after ingredients. Some of the ingredients are sourced from around the world, but many are grown on the farm. All research and development, formulations, packaging, marketing and distribution are done in-house, allowing Tata to control every step of the process, from formulation to shipment to a customer.
Tata Harper said, "I am very excited to be coming to Etiket to be able to explain my philosophy of natural skincare. I started Tata Harper Skincare because I feel women deserve to have natural and non-toxic products that really work, products that truly offer dramatic results. Educating our customers is so important for me, letting women know that they can be beautiful with all natural products."
Etiket carries the complete Tata Harper Skincare line including the Regenerating Cleanser, Hydrating Floral Essence, Rejuvenating Serum and the Reparative Nutrient Oil as well as offering her signature Rejuvenating Facial in their treatment rooms. This advanced facial uses 100% natural products and repairs the skin on a cellular level to maximize radiance and rejuvenation. The facial reinforces the production of collagen to smooth wrinkles, firm and lift. Finally, the infusion of botanical vitamins, minerals, omegas and antioxidants provide environmental protection and nutrition to help the skin achieve a healthy glow.
President of Etiket, Simon Tooley said: "We are seeing a trend towards natural and organic and Tata Harper is THE guru when it comes to natural skin care. We have seen an incredible response both in the store and on-line to Tata's products and we are honoured and excited to have Tata at Etiket on Friday."
Etiket sells Tata Harper in both their store in downtown Montreal on Sherbrooke Street as well as through their on-line store at Etiket.ca. The on-line store offers the consumer help or advice through a toll free number directly to the store. The Etiket team has been extensively trained in skin care and understands the importance of education and addressing each customer's specific needs to achieve results.
About Etiket:
Etiket launched its first store in December of 2011 as a luxury retail concept located in downtown Montreal. Etiket is establishing itself as a results-oriented skin care resource both in Montreal and on-line while at the same time growing its product categories to include: mineral make-up, fragrance, bath and body as well as hair care and exclusive beauty products. An online store was launched in March 2012 and long-term plans include opening more stores across Canada.