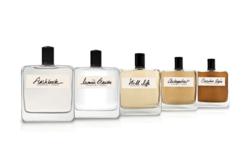 Perfumers often work with words when developing a fragrance, while photography evokes emotions, which is a key point of difference for Olfactive Studio.
Montreal, Quebec (PRWEB) April 25, 2013
Olfactive Studio is an encounter between contemporary artistic photography and perfumer, between the eye and the nose, truly at the crossroads of a photographic studio and a perfume design studio. This is the first time ever that perfumers have teamed up with photographers to draw inspiration from their work.
Céline Verleure, the creator of Olfactive Studio, first worked for the house of Kenzo under Pierre Broc, the creator of Kenzo fragrances, and at 28, created Kenzo Jungle with perfumers Dominique Ropion and Jean-Louis Sieuzac, and then l'Eau par Kenzo with Olivier Cresp. After that, she launched Osmoz.com for perfume aficionados, based on an original idea by Firmenich. After working at L'Oréal, she decided to launch the "Blog for the Fragrance that doesn't (yet) exist!" to tempt fate and give birth to a new brand of fragrances. Through the collective intuitions of an online community on Facebook, Olfactive Studio was born.
"Perfumers often work with words when developing a fragrance, while photography evokes emotions, which is a key point of difference for Olfactive Studio," said Verleure. "Great photography is inspirational, and the perfumers enjoy working in this different creative style."
Together, talented perfumers and photographers have created Olfactive Studio which consists of Autoportrait, Chambre Noire, Still Life, Lumière Blanche and the latest fragrance, Flash Back. Each of the scents (the 100ml is priced at $195 and the 50ml at $145) are packed with a postcard size image of the photo that inspired it.
"I found Olfactive Studio when I was in New York in January at the Elements Showcase and I could not wait for the launch in April. Celine's excitement for the melding of photography and fragrance has been perfectly translated into the five fragrances that make up the collection so far. We are thrilled to be able to introduce Olfactive Studio to the Canadian market," said Simon Tooley, president and owner at Etiket.
Etiket, known for its results oriented skin care is expanding its perfume section. Currently they showcase ARQUISTE Parfumeur, Atelier Cologne, l'Artisan Parfumeur, and Penhaligon's. Olfactive Studio is their latest addition as they expand their offering of niche perfumes.
"There is no one in Canada that is really presenting niche perfumes in a complete way. There are so many exquisite fragrances available and we will be expanding this area over the next year substantially, " said Simon Tooley.
Olfactive Studio was launched in Paris in September 2011 and is today enjoying tremendous success in over 20 countries in Europe, the Middle East, South Africa, Australia, and has recently launched at Bergdorf Goodman in New York. Olfactive Studio is distributed in North America by KVD NYC Inc.
About Etiket: Etiket launched its first store in December of 2011 as a luxury retail concept located in downtown Montreal. Etiket has established itself as a results-oriented skin care resource both in Montreal and on-line while at the same time growing its product categories to include niche fragrances, mineral make-up, bath and body, men's products as well as hair care, and exclusive beauty products. An online store was launched in March 2012 and long-term plans include opening more stores across Canada.