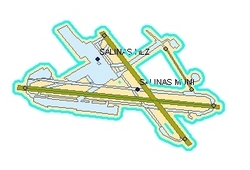 A major challenge to the aviation community has been identifying obstacle and terrain collection surface areas and storing the data with the correct requirements
Redlands, CA (PRWEB) March 12, 2009
ESRI, the leading provider of geographic information system (GIS) technology, announces that its Production Line Tool Set (PLTS) for ArcGIS--Aeronautical Solution (Aeronautical Solution) now enables aviation organizations to populate Electronic Terrain and Obstacle databases (eTOD). This enhancement will make it easier for International Civil Aviation Organization (ICAO) participating states to capture and manage obstacle and terrain data necessary for aviation maps and charts, as required by ICAO.
Aviation organizations have a critical requirement for reliable data and cost-effective workflows. "A major challenge to the aviation community has been identifying obstacle and terrain collection surface areas and storing the data with the correct requirements," says Michael Gayheart, Aeronautical Solution product manager, ESRI. "Aeronautical Solution makes it possible to do these tasks efficiently and provide accurate data."
Aeronautical Solution is an extension to ESRI ArcGIS that allows civil and military agencies, commercial airlines, and chart producers to effectively manage aeronautical information and produce high-quality charts. Organizations' ability to integrate eTOD into their GIS workflows means they can provide significant safety benefits for international aviation, because the obstacle and terrain data is accurate and up-to-date.
Aeronautical Solution works as an extension to organizations' Aeronautical Information Systems (AIS), allowing agencies to integrate the software easily into current production workflows. A Task Assistant is provided for defining obstacle and terrain collection surface areas. The Task Assistant workflow consists of step-by-step instructions to create eTOD surface areas and is intended for those not familiar with GIS.
For more information, please read the white paper entitled PLTS for ArcGIS--Aeronautical Solution: Implementing eTOD in the AIS Data Model. Go to http://www.esri.com/pltsetod to view or download the white paper. To learn more about Aeronautical Solution and how it is ideally suited for civil and military aeronautical agencies, commercial airlines, and commercial chart producers, please visit http://www.esri.com/plts, contact your local ESRI reseller, or call ESRI directly at 1-800-447-9778 . Users outside the United States should contact their ESRI international distributor (http://www.esri.com/distributors).
About ESRI:
Since 1969, ESRI has been giving customers around the world the power to think and plan geographically. The market leader in GIS, ESRI software is used in more than 300,000 organizations worldwide including each of the 200 largest cities in the United States, most national governments, more than two-thirds of Fortune 500 companies, and more than 7,000 colleges and universities. ESRI applications, running on more than one million desktops and thousands of Web and enterprise servers, provide the backbone for the world's mapping and spatial analysis. ESRI is the only vendor that provides complete technical solutions for desktop, mobile, server, and Internet platforms. Visit us at http://www.esri.com.
ESRI, the ESRI globe logo, ArcGIS, PLTS, GIS by ESRI, http://www.esri.com, and @esri.com are trademarks, registered trademarks, or service marks of ESRI in the United States, the European Community, or certain other jurisdictions. Other companies and products mentioned herein may be trademarks or registered trademarks of their respective trademark owners.
###