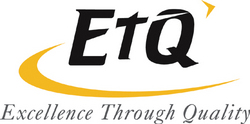 Food safety initiatives have evolved greatly throughout the years
Farmingdale, NY (Vocus) April 30, 2010
EtQ, Inc., is pleased to announce that its Professional Services Manager, Dennis Quonce, will speak at the Food Technology Innovation & Safety Forum to be held from May 11–12 at the Hyatt Regency O'Hare in Chicago.
Quonce will present the topic "GFSI Compliance and Automated Quality Management Systems—What does it mean to your organization?"
"Food safety initiatives have evolved greatly throughout the years," stated Quonce. "In this session we will discuss this evolution which has brought about many changes to the industry—one of those being the rising convergence of Quality and Food Safety Management systems. We will also look into the convergence of processes such as Document Control, Corrective and Preventive Action (CAPA), Hazard Analysis Critical Control Points (HACCP), Risk and the Supply Chain. Ultimately, this session will shed light on how the commonalities shared between quality and food safety processes enable a seamless convergence and why this convergence is beneficial to the industry."
EtQ's solutions for Food and Beverage include HACCP, CAPA, Employee Training, Document Control, Audits, Incidents, and Risk Assessment.
For more information or to view a demo, look for EtQ in booth 31 at the Food Technology Innovation & Safety forum. Visit us on the Web at http://www.etq.com.
About the Food Technology Innovation & Safety Summit
The 4th Food Technology, Innovation & Safety Forum 2010 brings together leading R&D, Innovation, New Product Development (NPD), Marketing and Food Safety and Quality Assurance professionals to discuss, innovate, knowledge-share and shape the future of the food industry into the new decade.
About EtQ
EtQ is the leading Enterprise Quality and Compliance Management software for identifying, mitigating, and preventing high-risk events through integration, automation, and collaboration. EtQ uses best-in-class, integrated modules and enterprise application integration to manage and measure quality and compliance processes and execute organizational change. Key modules within the product include HACCP, Risk Management, Corrective and Preventive Action (CAPA), Document Control, Audits, Complaint Handling, Change Management, Employee Training, Project Management, Nonconforming Materials, Enterprise Reporting, and more than 20 additional compliance-oriented modules. With its world-class flexible workflow, collaborative platform, EtQ has developed a unique niche to support enterprises involved in various compliance management initiatives such as ISO 22000, HACCP, SQF, BRC, IFS, cGxP (FDA), ISO 13485, ISO 9001:2008, ISO/TS 16949, ISO 14001, AS 9001, TL 9000, OHSAS 18001, RoHS, Sarbanes-Oxley, and similar standards for compliance and regulatory management. EtQ has been providing compliance solutions to a variety of markets for over 15 years.
For more information or to schedule a virtual demo, contact EtQ Inc., at 800-354-4476 or 516-293-0949, or e-mail us at info@etq.com. Visit us on the Web at http://www.etq.com.
EtQ is a trademark of EtQ Management Consultants, Inc. All other product names and company names are trademarks or registered trademarks of their respective owners.
###