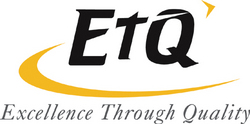 EtQ is pleased to have Dennis on board as part of the EtQ team
Farmingdale, NY (Vocus) April 15, 2010
EtQ, Inc., a provider of Quality, Compliance, and Environmental Health and Safety solutions, is pleased to welcome Dennis Quonce to the EtQ team.
Dennis has recently joined EtQ as the Professional Services Manager; however, many of EtQ's current customers will remember meeting him at one or more of EtQ's User Conferences. Dennis has over 30 years of experience in various roles in Manufacturing, Quality Management, Compliance—including ISO 9000, ISO 14001, ISO 22000, OHSAS 18001, and Safe Quality Food (SQF)—Software Project Management and Lean Six Sigma (LSS).
"We are excited to have Dennis on the EtQ team," stated Glenn McCarty, Chief Executive officer at EtQ. "Although new to the company, he is a familiar face to EtQ and has over 12 years of experience with EtQ implementations, being one of the early adopters automated quality management solutions. Dennis also led the effort for the successful deployment of EtQ Quality and EHS suites for a major aluminum manufacturer with locations in the United States, Germany, Korea, Malaysia and Thailand. Additionally, in his last position as Quality Systems Manager at an international packaging company, he successfully implemented a multi-site instance of Reliance for nine U.S. locations."
Dennis' prior experience includes serving as a Quality Assurance Specialist, Plant Quality Engineer, Business System Automation Specialist and Corporate Quality Systems Manager. Dennis is also a trained LSS Black Belt and LSS Deployment Leader.
EtQ is pleased to have Dennis on board as part of the EtQ team
About EtQ:
EtQ is the leading Enterprise Quality and Compliance Management software for identifying, mitigating, and preventing high-risk events through integration, automation, and collaboration. EtQ uses best-in-class, integrated modules and enterprise application integration to manage and measure quality and compliance processes and execute organizational change. Key modules within the product include Document Control, Corrective and Preventive Action (CAPA), Audits, HACCP, Complaint Handling, Risk Management, Change Management, Employee Training, Project Management, Nonconforming Materials, Enterprise Reporting, and more than 20 additional compliance-oriented modules. With its world-class flexible workflow, collaborative platform, EtQ has developed a unique niche to support enterprises involved in various compliance management initiatives such as: GMP (FDA), ISO 13485, ISO 9001:2008, ISO/TS 16949, ISO 14001, ISO 22000, AS 9001, TL 9000, OHSAS 18001, RoHS, Sarbanes-Oxley, HACCP, SQF, BRC, IFS, and similar standards for compliance and regulatory management. EtQ has been providing compliance solutions to a variety of markets for over 15 years.
For more information or to schedule a virtual demo, contact EtQ Inc., at 800-354-4476 or 516-293-0949, or e-mail us at info(at)etq(dot)com. Visit EtQ at http://www.etq.com.
EtQ is a trademark of EtQ Management Consultants, Inc. All other product names and company names are trademarks or registered trademarks of their respective owners.
Contact:
Brenda Percy
EtQ, Inc.
800-354-4476 ext. 26
bpercy(at)etq(dot)com
###