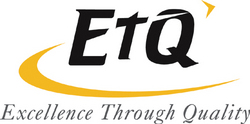 Managing your Risk has its Rewards
Farmingdale, NY (Vocus) May 13, 2010
EtQ is pleased to announce that they will be exhibiting and speaking at the American Society for Quality's (ASQ) World Conference on Quality and Improvement (WCQI) to be held from May 24th to 26th in St. Louis, MO.
EtQ's Chief Executive Officer Glenn McCarty will present the topic, "Managing your Risk has its Rewards," at 9:15 am on Tuesday, May 25.
"The ability to manage risk throughout the organization is a valuable attribute, with the ability to significantly maximize a company's bottom line," stated McCarty. "In this session we will examine the different methodologies for implementing risk-based quality technologies, look at some leading trends in the industry regarding risk assessment and risk mitigation, and see examples of how other companies are utilizing risk assessment in their compliance initiatives today. We will also take a real-world example of how using risk assessment in a quality system can help to identify and mitigate critical events as well as prevent reoccurrence."
For more information, visit EtQ at WCQI in booth 1016 or on the Web at http://www.etq.com.
About WCQI
The theme of the 2010 ASQ World Conference on Quality and Improvement is on expanding the reach of quality. The conference will provide a venue for attendees to learn new and classic quality tools, methodologies, and techniques, network with more than 1,500 attendees and exhibitors, and benchmark best practices in the International Team Excellence Award process.
About EtQ
EtQ is the leading Enterprise Quality and Compliance Management software for identifying, mitigating, and preventing high-risk events through integration, automation, and collaboration. EtQ uses best-in-class, integrated modules and enterprise application integration to manage and measure quality and compliance processes and execute organizational change. Key modules within the product include Document Control, Corrective and Preventive Action (CAPA), Audits, HACCP, Complaint Handling, Risk Management, Change Management, Employee Training, Project Management, Nonconforming Materials, Enterprise Reporting, and more than 20 additional compliance-oriented modules. With its world-class flexible workflow, collaborative platform, EtQ has developed a unique niche to support enterprises involved in various compliance management initiatives such as cGxP (FDA), ISO 13485, ISO 9001:2008, ISO/TS 16949, ISO 14001, ISO 22000, AS 9001, TL 9000, OHSAS 18001, RoHS, Sarbanes-Oxley, HACCP, SQF, BRC, IFS, and similar standards for compliance and regulatory management. EtQ has been providing compliance solutions to a variety of markets for over 15 years.
For more information or to schedule a virtual demo, contact EtQ Inc., at 800-354-4476 or 516-293-0949, or e-mail us at info(at)etq(dot)com. Visit us on the Web at http://www.etq.com.
EtQ is a trademark of EtQ Management Consultants, Inc. All other product names and company names are trademarks or registered trademarks of their respective owners.
Contact: Brenda Percy
EtQ, Inc.
800-354-4476 ext. 26
###