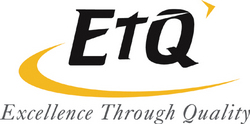 Farmingdale, NY (Vocus) April 21, 2010
EtQ is pleased to announce the launch of its newly redesigned website. EtQ's website has always been designed to offer visitors an informational, user-friendly environment for learning more about EtQ's products and services. The latest updates to the website further emphasize that point.
The new website offers features which further communicate the power and flexibility of EtQ's products and services. The website's new layout features a redesigned interface and provides even more user-friendly navigation. For example, the Corrective and Preventive Action (CAPA) page links to the CAPA white paper, brochure, and webcast. This enhanced navigation allows the user to more easily access relevant information.
EtQ's new website also comes with the introduction of EtQ's blog. Users can now visit http://blog.etq.com/ for relevant information about EtQ's latest offerings or to partake in conversation about the latest developments and industry updates in Quality Management Software, among other topics.
"EtQ is constantly looking for ways in which we can continually improve upon not only our product, but also the portrayal of our offerings," stated Glenn McCarty, Chief Executive Officer at EtQ. "As our product changes and grows, so must we. Our new website provides a fresh perspective on EtQ and serves as a stamp of the evolution of EtQ."
For more information or to view our new website, visit us at http://www.etq.com.
About EtQ
EtQ is the leading Enterprise Quality and Compliance Management software for identifying, mitigating, and preventing high-risk events through integration, automation, and collaboration. EtQ uses best-in-class, integrated modules and enterprise application integration to manage and measure quality and compliance processes and execute organizational change. Key modules within the product include Document Control, Corrective and Preventive Action (CAPA), Audits, HACCP, Complaint Handling, Risk Management, Change Management, Employee Training, Project Management, Nonconforming Materials, Enterprise Reporting, and more than 20 additional compliance-oriented modules. With its world-class flexible workflow, collaborative platform, EtQ has developed a unique niche to support enterprises involved in various compliance management initiatives such as: GMP (FDA), ISO 13485, ISO 9001:2008, ISO/TS 16949, ISO 14001, ISO 22000, AS 9001, TL 9000, OHSAS 18001, RoHS, Sarbanes-Oxley, HACCP, SQF, BRC, IFS, and similar standards for compliance and regulatory management. EtQ has been providing compliance solutions to a variety of markets for over 15 years.
For more information or to schedule a virtual demo, contact EtQ Inc., at 800-354-4476 or 516-293-0949, or e-mail us at info(at)etq(dot)com. Visit EtQ at http://www.etq.com.
EtQ is a trademark of EtQ Management Consultants, Inc. All other product names and company names are trademarks or registered trademarks of their respective owners.
Contact:
Brenda Percy
EtQ, Inc.
800-354-4476 ext. 26
bpercy(at)etq(dot)com
###