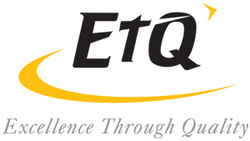 PPAP is a crucial part of the product development process
Farmingdale, NY (Vocus) August 12, 2010
EtQ, Inc. is pleased to announce its Production Part Approval Process (PPAP) module as part of its latest release, Reliance 7.1.
EtQ's PPAP module provides a collaboration process to efficiently manage the flow of information between a vendor and a customer on product design.
PPAP allows producers to evaluate the components and sub-systems that they receive from suppliers, and therefore establish confidence in the suppliers' management systems. This module ensures that suppliers comply with the exact design specifications of the customer.
"PPAP is a crucial part of the product development process," stated Morgan Palmer, Chief Technology Officer at EtQ. "It ensures that the customer will be getting exactly what they are looking for from each of their suppliers. This ability not only ensures the safety of the end product by reducing risks before it is released, but it also promotes a better relationship between customer and supplier. Ultimately, PPAP provides the customer with the evidence that their suppliers thoroughly understand requirements, the product is meeting customer requirements, and the production process will consistently provide conforming products—all of which lead to improved quality throughout the product lifecycle."
PPAP is just part of the latest enhancements available in Reliance 7.1. For more details on other enhancements to the latest release, visit EtQ on the Web at http://www.etq.com.
About EtQ
EtQ is the leading Enterprise Quality and Compliance Management software for identifying, mitigating, and preventing high-risk events through integration, automation, and collaboration. EtQ uses best-in-class, integrated modules and enterprise application integration to manage and measure quality and compliance processes and execute organizational change. Key modules within the product include Document Control, Corrective and Preventive Action (CAPA), Audits, HACCP, Complaint Handling, Risk Management, Change Management, Employee Training, Project Management, Nonconforming Materials, Enterprise Reporting, and more than 20 additional compliance-oriented modules. With its world-class flexible workflow, collaborative platform, EtQ has developed a unique niche to support enterprises involved in various compliance management initiatives such as: GMP (FDA), ISO 13485, ISO 9001:2008, ISO/TS 16949, ISO 14001, ISO 22000, AS 9001, TL 9000, OHSAS 18001, RoHS, Sarbanes-Oxley, HACCP, SQF, BRC, IFS, and similar standards for compliance and regulatory management. EtQ has been providing compliance solutions to a variety of markets for over 15 years.
For more information or to schedule a virtual demo, contact EtQ Inc., at 800-354-4476 or 516-293-0949, or e-mail us at info(at)etq(dot)com. Visit EtQ at http://www.etq.com.
EtQ is a trademark of EtQ Management Consultants, Inc. All other product names and company names are trademarks or registered trademarks of their respective owners.
Contact: Brenda Percy
EtQ, Inc.
800-354-4476 ext. 26
###