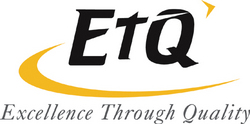 Farmingdale, NY (Vocus) May 6, 2010
EtQ is pleased to announce the addition of its Product Data Management (PDM) module.
EtQ's PDM module improves the management of product development through its components, subcomponents, and costs. PDM plays a major part in managing the product lifecycle. It helps track and control all data that is related to a particular product.
"In its latest release, EtQ introduced several new modules and features, PDM being one of them," stated Morgan Palmer, Chief Technology Officer at EtQ. "PDM leverages all compliance functionality of the EtQ platform, incuding robust review and approval, the document change cycle, escalations, and reports. Along with improved product development management and enhanced control of all data, PDM provides a Bill of Materials (BOM) that lists all of the assemblies, subassemblies and components that go into the development of each product, as well as the quantities and costs associated with the product's creation and launch. Overall, the capabilities inherent in the PDM module make it a valuable addition to the EtQ product suite."
EtQ's PDM module is a part of EtQ's vision of managing quality and compliance throughout the design, production, and continuous improvement phases of the product life cycle. To learn more about EtQ's PDM module, or to schedule a demo, visit us at http://www.etq.com.
About EtQ
EtQ is the leading Enterprise Quality and Compliance Management software for identifying, mitigating, and preventing high-risk events through integration, automation, and collaboration. EtQ uses best-in-class, integrated modules and enterprise application integration to manage and measure quality and compliance processes and execute organizational change. Key modules within the product include Document Control, Corrective and Preventive Action (CAPA), Audits, HACCP, Complaint Handling, Risk Management, Change Management, Employee Training, Project Management, Nonconforming Materials, Enterprise Reporting, and more than 20 additional compliance-oriented modules. With its world-class flexible workflow, collaborative platform, EtQ has developed a unique niche to support enterprises involved in various compliance management initiatives such as cGxP (FDA), ISO 13485, ISO 9001:2008, ISO/TS 16949, ISO 14001, ISO 22000, AS 9001, TL 9000, OHSAS 18001, RoHS, Sarbanes-Oxley, HACCP, SQF, BRC, IFS, and similar standards for compliance and regulatory management. EtQ has been providing compliance solutions to a variety of markets for over 15 years. For more information or to schedule a virtual demo, contact EtQ Inc., at 800-354-4476 or 516-293-0949, or e-mail us at info(at)etq(dot)com. Visit EtQ at http://www.etq.com.
EtQ is a trademark of EtQ Management Consultants, Inc. All other product names and company names are trademarks or registered trademarks of their respective owners.
###