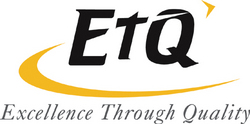 Farmingdale, NY (Vocus) June 30, 2009
EtQ, Inc. is pleased to announce enhanced features in the latest release of its Web-based enterprise system for Quality, Compliance, and Environmental Health and Safety management, Reliance 6.2.
EtQ Reliance 6.2 incorporates enhanced features and utilities including automation, integration, and reporting.
Enhancements to the latest release include:

Searching and Filtering: With EtQ's advanced searching features, users will now have the ability to perform saved searches, which gives the user the ability to retrieve past search strings, while displaying the current real-time search results. This feature is designed to provide users with an easy way to access recent searches while providing up to the minute search results. EtQ has also introduced a global search feature from a new search bar at the top of every page in EtQ Reliance. This enables users to conduct a Google-style search across all data within EtQ Reliance, providing a high-level keyword search across the entire system.
Enterprise Configuration Center: The EtQ Enterprise Configuration Center (ECC) is a tool that enables a centralized resource for managing multiple facilities. EtQ's ECC enables EtQ Administrators to distribute administrative ownership based on location, allowing for configuration of each location in a centralized application. Reporting and business intelligence has been made easier using the ECC, allowing companies to roll-up company-wide data into quantitative reports that show top compliance risks across each site within the enterprise.
Customer Complaints: EtQ's Customer Complaints module allows the user to track all aspects of their customer data including links to open material returns, contact information, complaints, and more. Includes the ability to generate a customer complaint form with Risk Assessment and links to Corrective Action.
Connection Profiles: EtQ's Connection Profiles is a graphical Web-based administration tool that enables integration between EtQ Reliance and third-party business systems. Through the use of simple administration forms, users can connect EtQ Reliance applications directly to third-party systems to integrate data from ERP, MES, LIMS, PLM, EDMS and more. EtQ Connection Profiles will dramatically enhance the ability for business users to leverage integration technology, without programming, and provide increased visibility into other critical systems in the enterprise.
Flexible Decision Trees: The EtQ Decision Tree allows users to create a Web-based list of related questions that are dependent on each other, so that the results of the questions will impact the business process and produce quantitative results such as a risk ranking, subsequent questions or related actions. In the latest release of EtQ Reliance, users are able to use EtQ's graphical administration tool, EtQ Designer, to seamlessly produce Decision Trees in any application.
Centralized Reporting: EtQ's Centralized Reporting function includes 3D, Radar, and Polar charting, as well as the ability to define upper and lower control limits for each chart type. Charts can also be produced from any view with a single click, allowing the user to visualize data quickly and easily--enhancing an organization's decision-making abilities.
"EtQ's goal is to increase overall convenience and functionality for all users and the enhancements made within the latest release of Reliance are a further testament to that," stated Morgan Palmer, Chief Technology Officer at EtQ. "EtQ's flexible workflow platform continues to allow workflows, sections, business rules, reports, as well as the look and feel to be configured without programming, allowing users to match their business process exactly, and further enabling a user-friendly environment."
For more information on enhancements made to the latest release, visit EtQ on the Web at http://www.etq.com/reliance .
About EtQ
EtQ is the leading Enterprise Quality and Compliance Management software for identifying, mitigating, and preventing high-risk events through integration, automation, and collaboration. EtQ uses best-in-class, integrated modules and enterprise application integration to manage and measure quality and compliance processes and execute organizational change. Key modules within the product include: Document Control, Corrective and Preventive Action (CAPA), Audits, Complaint Handling, Risk Management, Change Management, Employee Training, Project Management, Nonconforming Materials, Enterprise Reporting, and more than 20 additional compliance-oriented modules. With its world-class flexible workflow, collaborative platform, EtQ has developed a unique niche to support enterprises involved in various compliance management initiatives such as; cGxP (FDA), ISO 13485, ISO 9001:2008, ISO/TS 16949, ISO 14001, ISO 22000, AS 9001, TL 9000, OHSAS 18001, RoHS, Sarbanes-Oxley, HACCP, SQF, and similar standards for compliance and regulatory management. EtQ has been providing compliance solutions to a variety of markets for over 15 years.
For more information or to schedule a virtual demo, contact EtQ Inc., at 800-354-4476 or 516-293-0949, or e-mail us at info (at) etq (dot) com.
EtQ is a trademark of EtQ Management Consultants, Inc. All other product names and company names are trademarks or registered trademarks of their respective owners.
# # #