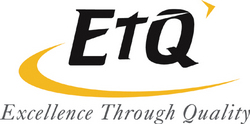 Farmingdale, NY (Vocus) January 29, 2010
EtQ, Inc. is pleased to announce the upcoming release of Reliance 7.0, with new enhancements to its innovative user interface.
EtQ Reliance has long been held as a leader in intuitive and easy to use products. The Reliance 7.0 user interface boasts several key enhancements that keep in line with EtQ's vision for creating a unified user experience that flattens the learning curve. Some of the highlighted enhancements include:

View Navigator—EtQ View Navigator has been enhanced with a new look and feel designed to make data easily accessible, and includes changes to search application fields/icons, folder and document icons. The selected report view is highlighted in the navigator, and the system "remembers" the current view, even when users navigate away to other tabs. In addition, the view navigator can now be collapsed by the user to show more on-screen data. This feature enhances convenience for the user when working on multiple tasks.
Intelligent Action Buttons—Action buttons can now be automatically reordered according to usage. Favorite action buttons have been changed to intuitive icons with descriptive captions and action items used least are now grouped in the drill-down "More" menu. Action icons can also be displayed in a new "button bar" at the bottom of the form.
Highlighted Records—Utilizing the latest in Web technology, records are now highlighted on MouseOver, resulting in easier navigation. Additionally, column headers are now highlighted on MouseOver for enhanced sorting purposes.
Tabbed Forms—EtQ's tabbed browsing clearly distinguishes the content of the page represented by the tab, such as document type and number. This feature helps users to clearly identify the content within each open tab, thus improving overall productivity when working with multiple tabs. Within the EtQ forms, fields have also taken on a tabular look, helping to work on multiple sections in an efficient manner.
Help—Context-sensitive Help is now available from all pages and dialogs. The Help content provides easy and fast online access to the detailed instructions already available in EtQ's extensive User Manuals. Help can be easily changed to match the customer's own specific configurations.
"EtQ is constantly looking for innovative ways to enhance the user experience," stated Morgan Palmer, Chief Technology Officer at EtQ. "We recognize that a user friendly solution with the ability to match an organization's business processes is essential to ensuring full adoption of the system. With the design changes of 7.0, EtQ continues on its vision to introduce a faster, richer and more dynamic user interface based on Web 2.0 standards. We look forward to unveiling all that Reliance 7.0 has to offer."
This innovative user interface is just part of the latest enhancements available in Reliance 7.0. For more details on other enhancements to the latest release, visit our website at http://www.etq.com.
About EtQ
EtQ is the leading Enterprise Quality and Compliance Management software for identifying, mitigating, and preventing high-risk events through integration, automation, and collaboration. EtQ uses best-in-class, integrated modules and enterprise application integration to manage and measure quality and compliance processes and execute organizational change. Key modules within the product include Document Control, Corrective and Preventive Action (CAPA), Audits, HACCP, Complaint Handling, Risk Management, Change Management, Employee Training, Project Management, Nonconforming Materials, Enterprise Reporting, and more than 20 additional compliance-oriented modules. With its world-class flexible workflow, collaborative platform, EtQ has developed a unique niche to support enterprises involved in various compliance management initiatives such as cGxP (FDA), ISO 13485, ISO 9001:2008, ISO/TS 16949, ISO 14001, ISO 22000, AS 9001, TL 9000, OHSAS 18001, RoHS, Sarbanes-Oxley, HACCP, SQF, BRC, IFS, and similar standards for compliance and regulatory management. EtQ has been providing compliance solutions to a variety of markets for over 15 years.
For more information or to schedule a virtual demo, contact EtQ Inc., at 800-354-4476 or 516-293-0949, or e-mail us at info(at)etq(dot)com. Visit EtQ at http://www.etq.com.
EtQ is a trademark of EtQ Management Consultants, Inc. All other product names and company names are trademarks or registered trademarks of their respective owners.
Contact:
Brenda Percy
EtQ, Inc.
800-354-4476 ext. 26
# # #