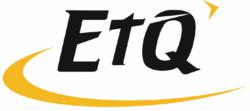 We are pleased to announce our self-certification to Safe Harbor and to join Safe Harbor in following industry best practices for privacy, security, and assurance of consumer confidence
Farmingdale, NY (PRWEB) July 11, 2012
EtQ, provider of Quality Management, Environmental Health and Safety, and FDA Compliance Software systems has announced that it has met the self-certification requirements established by the US Department of Commerce for the U.S.-EU Safe Harbor framework and is now Safe Harbor compliant.
The U.S.-EU Safe Harbor program signifies that a website and Web-based software applications are in compliance with the U.S.-EU Safe Harbor Framework, a legal Safe Harbor that was established by the Department of Commerce to bridge the gap between the different approaches to privacy protection of the U.S. and EU.
"We are pleased to announce our self-certification to Safe Harbor and to join Safe Harbor in following industry best practices for privacy, security, and assurance of consumer confidence," stated Glenn McCarty, CEO of EtQ. "Our self-certification further emphasizes EtQ's stance as a customer-focused company, as we continue to base our company on consumer trust and expectation."
For more Information regarding the EU Safe Harbor Framework, go to: http://export.gov/safeharbor.
About the U.S.-EU Safe Harbor Program
The European Commission's Directive on Data Protection went into effect in October of 1998, and would prohibit the transfer of personal data to non-European Union countries that do not meet the European Union (EU) "adequacy" standard for privacy protection. While the United States and the EU share the goal of enhancing privacy protection for their citizens, the United States takes a different approach to privacy from that taken by the EU. In order to bridge these differences in approach and provide a streamlined means for U.S. organizations to comply with the Directive, the U.S. Department of Commerce in consultation with the European Commission developed a "safe harbor" framework and this website to provide the information an organization would need to evaluate – and then join – the U.S.-EU Safe Harbor program.
About EtQ: Celebrating 20 Years of Excellence
Founded on March 4, 1992 by former lead auditors of Underwriters Laboratories, EtQ has always had a unique knowledge of Quality, Environmental Health and Safety (EHS) and FDA Compliance processes, and strives to make overall quality operations and management systems better for businesses. This year, EtQ celebrates 20 years of excellence and continues to be the leading Quality, EHS and Compliance solution provider for identifying, mitigating and preventing high-risk events through integration, automation and collaboration. EtQ encompasses a wide variety of industries, providing solutions for Quality, Food and Beverage, EHS, Aviation and Life Sciences. EtQ uses best in class integrated modules and enterprise application integration to manage and measure Quality, EHS and FDA Compliance processes and execute organizational change. EtQ's solution, Reliance, is an enterprise suite of modules designed to foster operational excellence in businesses with modules and utilities such as Risk Management, CAPA, Document Control, Employee Training, Supplier Rating, FMEA, Customer Complaints, Audits, and many more. EtQ has been providing software solutions to a variety of markets for 20 years. For more information, please visit http://www.etq.com.
###
EtQ is a trademark of EtQ Management Consultants, Inc. All other product names and company names are trademarks or registered trademarks of their respective owners.