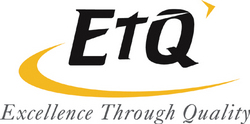 Managing your Risk Has its Rewards
Farmingdale, NY (Vocus) June 3, 2010
EtQ is pleased to announce that they will be exhibiting and speaking at the American Society of Safety Engineers Professional Development Conference and Exposition, Safety 2010, to be held from June 13-16 in Baltimore, MD.
Glenn McCarty, EtQ's Chief Executive Officer, will present the topic, "Managing your Risk Has its Rewards," from 4:30pm to 5:30pm on Tuesday, June 15th.
"The ability to control and correct processes is key to maintaining a high level of compliance within any organization," stated McCarty. "Using Risk Assessment and Risk Mitigation, companies can effectively measure Environmental Health and Safety (EHS) events from an objective standpoint to assess the overall impact. In this session, we're going to review implementation of risk-based EHS technologies and look into some examples of how organizations are incorporating Risk Assessment today. Ultimately, we want attendees to understand the trends in Risk Management as well as hear real-world studies on how organizations are using these tools to their benefit."
For more information or to view a demo, visit EtQ in booth 1838 or on the Web at http://www.etq.com.
About Safety 2010
The American Society of Safety Engineers Engineering Conference is where top safety professionals come to discover the latest technological developments and see new products and services. Professionals from the safety, health, and environmental industry seek a forum to exchange ideas on a multitude of issues as they search for new ways to expand their knowledge of the latest developments affecting the industry. The Show is regarded as the leader in safety education, providing a dynamic educational conference together with proven ideas and strategies from experienced exhibitors on the trade show floor.
About EtQ
EtQ is the leading Enterprise Environmental Health and Safety and Compliance Management software for identifying, mitigating, and preventing high-risk events through integration, automation, and collaboration. EtQ uses best-in-class, integrated modules and enterprise application integration to manage and measure EHS and compliance processes and execute organizational change. Key modules within the product include Job Safety Analysis, Incidents, Environmental Aspects, MSDS, Monitoring and Inspection, Risk Management, Document Control, Corrective and Preventive Action (CAPA), Audits, Change Management, Employee Training, Project Management, and more than 20 additional compliance-oriented modules. With its world-class flexible workflow, collaborative platform, EtQ has developed a unique niche to support enterprises involved in various compliance management initiatives such as ISO 14001, OHSAS 18001, ISO 9001:2008,cGxP (FDA), ISO 13485, ISO/TS 16949, ISO 22000, AS 9001, TL 9000, RoHS, Sarbanes-Oxley, HACCP, SQF, BRC, IFS, and similar standards for compliance and regulatory management. EtQ has been providing compliance solutions to a variety of markets for over 15 years.
For more information or to schedule a virtual demo, contact EtQ Inc., at 800-354-4476 or 516-293-0949, or e-mail us at info(at)etq(dot)com. Visit us on the Web at http://www.etq.com.
EtQ is a trademark of EtQ Management Consultants, Inc. All other product names and company names are trademarks or registered trademarks of their respective owners.
###