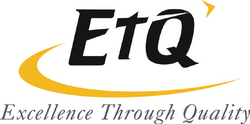 Having experience in the compliance market both as a customer within a large multinational company and as a supplier within a software solution vendor, I am thrilled to head up EtQ within the UK and Europe
Farmingdale, NY (Vocus) October 13, 2009
EtQ, Inc. is pleased to announce that it has continued to expand its global network with the formation of EtQ UK, located in the West Midlands of England.
EtQ UK specializes in providing sales and services throughout the United Kingdom and Europe, providing consumers with the best-in-class, user-friendly software to meet their quality, compliance, and environmental health and safety needs. EtQ continues to expand it global network, with offices in the United Kingdom, Europe, Middle East, Africa (EMEA) as well as in the Asia-Pacific region.
"EtQ is excited to have a dedicated source to offer its world-class solution to organizations based in the United Kingdom and Europe," stated Glenn McCarty, Chief Executive Officer at EtQ. "EtQ UK has been a excellent addition to the EtQ family by offering sales and services for the region, while employing EtQ's methodologies and proven implementation methods. We look forward to providing this region with a robust, flexible solution to meet their business needs while ensuring compliance to quality initiatives and improving quality operations."
"Having experience in the compliance market both as a customer within a large multinational company and as a supplier within a software solution vendor, I am thrilled to head up EtQ within the UK and Europe," confirms Simon Benson, Director at EtQ UK. "We aim to continue the excellent reputation EtQ has developed over many years and help them to become the market leader globally."
For more information, EtQ UK can be contacted by phone at +44 (0) 845 519 2025, or by email at info(at)etquk(dot)com.
About EtQ
EtQ is the leading Enterprise Quality and Compliance Management software for identifying, mitigating, and preventing high-risk events through integration, automation, and collaboration. EtQ uses best-in-class, integrated modules and enterprise application integration to manage and measure quality and compliance processes and execute organizational change. Key modules within the product include Document Control, Corrective and Preventive Action (CAPA), Audits, HACCP, Complaint Handling, Risk Management, Change Management, Employee Training, Project Management, Nonconforming Materials, Enterprise Reporting, and more than 20 additional compliance-oriented modules. With its world-class flexible workflow, collaborative platform, EtQ has developed a unique niche to support enterprises involved in various compliance management initiatives such as cGxP (FDA), ISO 13485, ISO 9001:2008, ISO/TS 16949, ISO 14001, ISO 22000, AS 9001, TL 9000, OHSAS 18001, RoHS, Sarbanes-Oxley, HACCP, SQF, BRC, IFS, and similar standards for compliance and regulatory management. EtQ has been providing compliance solutions to a variety of markets for over 15 years.
For more information or to schedule a virtual demo, contact EtQ Inc., at 800-354-4476 or 516-293-0949, or e-mail us at info(at)etq(dot)com. Visit EtQ at http://www.etq.com.
EtQ is a trademark of EtQ Management Consultants, Inc. All other product names and company names are trademarks or registered trademarks of their respective owners.
Contact:
Brenda Percy
EtQ, Inc.
800-354-4476 ext. 26
bpercy(at)etq(dot)com
# # #