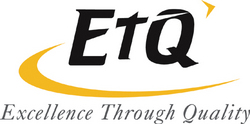 The ability to control and correct processes in today's Quality Systems is key to maintaining the highest level of compliance within the organization
Farmingdale, NY (Vocus) June 2, 2010
EtQ is pleased to announce that its Chief Executive Officer, Glenn McCarty, will be presenting a one-hour webinar, "Managing Your Risk Has Its Rewards: How Quantitative Risk Assessment is applied to your Quality Management System," on June 9 at 1:00 pm EDT.
This webinar will look into the different methodologies for implementing Risk-Based Quality Technologies. It will describe some leading trends in the industry regarding Risk Assessment and Risk Mitigation, and show some examples of how other companies are utilizing Risk Assessment in their compliance initiatives today.
"The ability to control and correct processes in today's Quality Systems is key to maintaining the highest level of compliance within the organization," states McCarty. "Oftentimes a subjective determination is used to determine the impact of events, which relies on individuals themselves to make the decision as to whether or not an event is critical. However, to effectively measure impact it is necessary to use an objective approach. This is made possible with Risk Management tools such as Risk Assessment and Risk Mitigation. Risk Assessment calculates the risk of quality events at each step in a process, which effectively improves overall quality and reduces the recurrence of critical events. Additionally, each Risk Assessment event incorporates Risk Mitigation tracking to ensure that Corrective and Preventive Actions (CAPA's) reduce risks to appropriate levels. This webinar will give attendees a better understanding of the benefits of using these tools."
For more information or to register, visit EtQ on the Web at http://www.etq.com/webinar.
About EtQ
EtQ is the leading Enterprise Quality and Compliance Management software for identifying, mitigating, and preventing high-risk events through integration, automation, and collaboration. EtQ uses best-in-class, integrated modules and enterprise application integration to manage and measure quality and compliance processes and execute organizational change. Key modules within the product include Risk Management, Corrective and Preventive Action (CAPA), Document Control, Audits, HACCP, Complaint Handling, Change Management, Employee Training, Project Management, Nonconforming Materials, Enterprise Reporting, and more than 20 additional compliance-oriented modules. With its world-class flexible workflow, collaborative platform, EtQ has developed a unique niche to support enterprises involved in various compliance management initiatives such as: GMP (FDA), ISO 13485, ISO 9001:2008, ISO/TS 16949, ISO 14001, ISO 22000, AS 9001, TL 9000, OHSAS 18001, RoHS, Sarbanes-Oxley, HACCP, SQF, BRC, IFS, and similar standards for compliance and regulatory management. EtQ has been providing compliance solutions to a variety of markets for over 15 years.
For more information or to schedule a virtual demo, contact EtQ Inc., at 800-354-4476 or 516-293-0949, or e-mail us at info(at)etq(dot)com. Visit EtQ at http://www.etq.com.
EtQ is a trademark of EtQ Management Consultants, Inc. All other product names and company names are trademarks or registered trademarks of their respective owners.
###