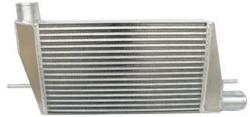 This company has now expanded its used condition parts and is now selling ETS intercooler units for a discounted price.
Oklahoma City, Oklahoma (PRWEB) May 17, 2013
Aftermarket companies help support the automotive industry by providing essential parts used to compliment the OEM construction that is put into modern automotive manufacturing. Owners of performance vehicles searching for available parts online can now take advantage of the AutoProsUSA.com inventory. This company has now expanded its used condition parts and is now selling ETS intercooler units for a discounted price at http://autoprosusa.com/used-intercoolers-for-sale.
These prices are offered to owners of vehicles and other buyers currently trying to locate a more affordable option compared to a brand new unit. The company pricing and inventory stock levels are now searchable online.
The cooling units used for import vehicles offers a way to expand the airflow while expelling the gases that can cause overheating during engine combustion. Since many import engines can exceed stock horsepower ratios, the ability to provide cooler air is essential for many vehicles.
The concept of the intercooler is now providing options for project car builders, car owners and mechanics to install these units to increase overall performance. The used ETS parts now added for sale online are one example of the recent changes made at the Auto Pros company this year to benefit its customers.
The new inventory of parts that are available from the company website now includes more part types for buyers. While most buyers search for basic preowned parts, other part types are now commonly searched for through distributors and dealerships nationwide. The integration of performance, OEM and aftermarket parts in used condition is now providing a larger Internet resource for buyers to use to locate parts not sold in local areas. The parts acquisition team for the AutoProsUSA.com company is responsible for locating the parts now listed for sale in the company database.
The price quotation system installed on the company website is now a popular way that buyers receive updated pricing. The toll-free company number remains a secondary option to acquire information although this new online system is able to provide information after company business hours. The price comparison features and other essential data provided by this system is now helping buyers purchase parts faster and easier. This system is now updated on a daily basis to provide updated price changes, deletions or additions to the warehouse inventory offered for sale.
About AutoProsUSA.com
The AutoProsUSA.com company built its online resource for used automotive parts to offer better ways for parts buyers to locate immediate replacements for prices less than dealership retail prices. This company is owned and controlled by automotive specialists who constantly upgrade the company services to provide better resources to buyers nationwide. The low price measures put in place at this company are incentives not found through some sellers online. The AutoProsUSA.com company includes warranty information for all parts that are sold to educate buyers on the types of protections that are offered to assure overall quality. Website enhancements and a new toll-free number represents recent company upgrades.