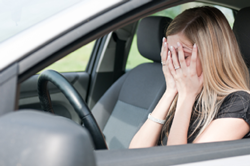 Many consumers, especially women, are concerned about the affect it will have on their insurance
(PRWEB UK) 12 November 2012
If you are a young female driver with car insurance due for renewal in the next few months you may well have heard about the EU gender ruling.
The EU's Gender Directive is coming into effect from December 21st this year and means that insurance providers will no longer be able to take gender into account when calculating car insurance premiums. The likely result will be that women drivers will no longer continue to benefit from lower rates than their male counterparts as they have done in the past.
There has been much speculation over what the EU Gender Directive will mean for motorists and in particular the impact it will have on the pricing of insurance policies. Car insurance comparison site Tiger.co.uk has produced a guide to the EU Gender Directive that aims to address some of the questions motorists may have and provide guidance on what is to be expected.
Andrew Goulborn, Commercial Director for Tiger.co.uk commented: "There is no doubt that insurance providers are having to re-evaluate their pricing as a result of the European Court of Justice ruling, but it is still not yet evident exactly what the impact will be. Many consumers, especially women, are concerned about the affect it will have on their insurance and we thought it would be good to publish a simple guide sharing the knowledge we have. This is part of our continued commitment to offer our shoppers more than just the ability to easily compare car insurance quotes. As always, we would recommend that all drivers compare car insurance prices at renewal using an independent site like Tiger.co.uk to access quotes from over 90 car insurance brands including 6 of the increasingly popular telematics or black box insurance brands."
About http://www.tiger.co.uk:
Tiger.co.uk is a trading name of Call Connection Ltd. Tiger.co.uk is a UK based, independent car insurance comparison site, offering insurance quotes from over 150 motor insurance brands. Call Connection Ltd is authorised and regulated by the Financial Services Authority (number 308374).
Source Attribution: http://www.guardian.co.uk/money/2012/oct/05/car-insurance-women-rise-premiums-eu-ruling