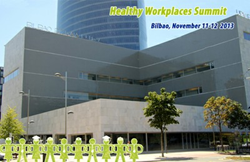 Dr Christa Sedlatschek, Director of EU-OSHA, said: 'The Healthy Workplaces campaigns have proven once again to be one of the most successful and effective ways of promoting good OSH at a grass-roots level'.
(PRWEB UK) 11 November 2013
EU-OSHA's 'Working together for risk prevention' campaign officially ends with the Healthy Workplaces Summit in Bilbao on 11 and 12 November 2013.
Many of the Agency's campaign partners are in attendance, together with leading European occupational safety and health professionals.
The winner of the first ever Enterprise Europe Network OSH award is also announced at the event.