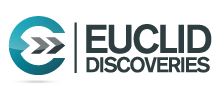 Concord, MA (PRWEB) November 20, 2012
Nigel Lee, Ph.D., previously Euclid's Chief Algorithmic Engineer, has been appointed as the company's Chief Science Officer.
Darin DeForest, Ph.D., has been promoted to Director of Software Development. DeForest's previous role was Lead Algorithmic Software Engineer.
Anne Watelet has been promoted to Director of Operations. Prior to this position Watelet was the company's Knowledge manager.
"These changes were made to acknowledge the roles and added responsibilities of these key personnel", said Richard Wingard, CEO of Euclid Discoveries. "We are making significant advancements in our technology and we continue to ensure the protection of our Intellectual Property through the patent process. Nigel, Darin and Anne are doing pivotal work in these areas and their new positions reflect that work."
About Euclid
Euclid Discoveries is a video technology development company focused on the delivery of HD video over constrained networks. For the past 12 years Euclid has been tackling this challenge and has invented an innovative technology that delivers significant benefits in video distribution, search, and storage.
To learn more about Euclid Discoveries and its video processing technology, please view our video that can be found on our website, or please contact us at info(at)eucliddiscoveries(dot)com.