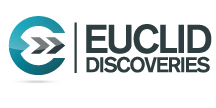 "Euclid Discoveries continues to press the boundaries of video processing and compression technology," said Euclid's CEO, Richard Wingard
Boston, MA (PRWEB) January 03, 2013
Euclid Discoveries' newest patent covers generation of an object-based encoding for video processing applications. Specifically, an object is detected in video data and correspondence models are generated from the detected object, aiding video compression. Spectral, texture, and motion segmentation are employed.
Euclid continues to rigorously protect its video processing inventions with its recent filing of another patent application. This latest application relates to modeling data at multiple fidelities and uses higher-level modeling to provide an efficient way of navigating more of the prediction search space to produce better predictions.
With this newest grant, Euclid Discoveries has 28 granted patents in the US and internationally. The company also has an additional 21 patents pending.
"Euclid Discoveries continues to press the boundaries of video processing and compression technology," said Euclid's CEO, Richard Wingard. "We are excited and proud of our advancements and continue to advance the field of object and feature-based video processing."
About Euclid Discoveries:
Euclid Discoveries is a video technology development company focused on the delivery of HD video over constrained networks. For the past 12 years Euclid has been tackling this challenge and has invented an innovative technology that delivers significant benefits in video distribution.
The company's patented technology utilizes object modeling to deliver improved video compression with no loss of visual quality. Until now, the company's technology has been operating exclusively on a proprietary codec. During the course of the company's research and development, it was discovered that certain components of the technology could operate entirely within the H.264 standard, delivering compression and video quality enhancements.
To learn more about Euclid Discoveries and its video processing technology, please visit our [website, or contact us at info@eucliddiscoveries.com.