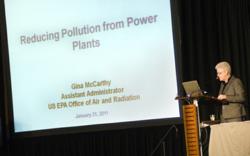 We're fortunate to have Assistant Administrator McCarthy return as a keynote speaker. This year she will discuss the newly issued mercury standards as a follow up to her presentation last year," said Dr. Prabhu Dayal, EUEC Chairman
Phoenix, AZ (PRWEB) January 26, 2012
Gina McCarthy, Assistant Administrator for the U.S. Environmental Protection Agency's Office of Air and Radiation, will address about 2,000 delegates at EUEC 2012, the USA's largest energy, utility and environment conference to be held at the Phoenix Convention Center from January 30 to February 2, 2012.
McCarthy's keynote address will include the EPA's new Mercury and Air Toxics Standards (MATS) issued on December 21, 2011. These are the first national standards to regulate power plant emissions of mercury and toxic air pollution that directly impact 1,400 coal-fired and oil-fired power plants and are estimated to cost $10 billion.
These rules were issued after 20 years of study and litigation that included participation by experts presenting at the EUEC 2012 and at past EUEC conferences.
"We're fortunate to have Assistant Administrator McCarthy return as a keynote speaker. This year she will discuss the newly issued mercury standards as a follow up to her presentation last year on the proposed rules. Senior executives from the Department of Energy and Southern Company will also speak in the keynote session on how the utility industry plans to comply with these new regulations and how it impacts 1,400 power plants identified by the EPA." said Dr. Prabhu Dayal, EUEC Chairman.
EUEC 2012 is the 15th annual energy, utility and environment conference, making it the largest and longest running professional networking and educational event of its kind in the United States. EUEC provides an educational forum with 600 expert speakers in 12 tracks and networking events in the exhibit hall to facilitate the collaboration between government, industry and stakeholders for the protection of our environment and energy security.
Register online at http://www.euec.com, call (520) 615-3535, or register onsite on Sunday, January 29, 2012.
###