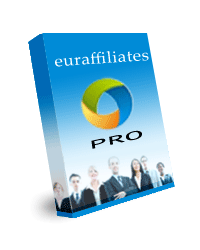 A Next-G Affiliate Software to sell more with direct links, datafeed, content widget and tell-a-friend affiliate management tool. Tracks even the non-affiliate sales. Merchants can join multiple networks without the risk of the double commission.
London, UK (PRWEB) November 29, 2011
Euraffiliates Pro (http://www.euraffiliates.com/euraffiliates-pro.php) affiliate software goes beyond the traditional limitations of an affiliate software program. Its Next-G tools give a merchant an extra edge: to attract, retain and empower affiliates to make more sales.
Merchants can start selling more naturally with just a free trial of Euraffiliates-Pro Affiliate Software.
Euraffiliates helps a merchant to sell more in three major ways
1. A merchant can create an army of loyal affiliates by using the advanced tools that Euraffiliates offers, such as personalized commission deals, direct linking solutions, and many advanced advert types. Being able to tailor the affiliate program to exactly what each individual affiliate wants allows the affiliate to sell far more, and allows the merchant to attract and retain the biggest and the best.
2. Euraffiliates helps a merchant track non-affiliate revenue (PPC, paid advertising, partner networks). Complete reporting helps merchants make better marketing decisions and drive more sales. Affiliate loyalty increases when the affiliate can see every sale clearly in his reporting.
3. Euraffiliates allows merchants to setup "master cookie platforms". These record which affiliate should be rewarded for a sale (at the merchant's choice) so that if a customer buys having visited the site of more than one affiliate, or if the affiliate is a member of more than one affiliate networks, the merchant doesn't end up paying the commission more than once.
QUICK SETUP
Setup couldn't be easier. After downloading the source files from the Euraffiliates web site and copying them to the merchant's server, the merchant just needs to add database information to a config file and run the browser-based setup wizard. There is full help within the software and an optimization map helps the merchant keep track of what stills needs to be done.
All he needs is to upload the source files, add the database info in the conf file, run the wizard and then follow the on-screen instructions. Each and every instruction is available in their respective tool-page and the optimization map links to each tool.
The software also comes with solid after sales support. They help their customers, even the trial users when stuck in the middle.
FREE TRIAL
Even the free trial deviates from the norm. Unlike traditional free trials that are time limited from point of installation, the Euraffiliates trial only ends in 30 days after the first sale. That means that the merchant can set up the system completely with no time pressure before opening his program to his affiliates. Once it is proven, he then has a whole month to take sales before making a decision to buy. If it doesn't work, he loses nothing.
The software is available for free download at http://www.euraffiliates.com/download.php
MORE INFORMATION
There is lots more information on Euraffiliates at their website at http://www.euraffiliates.com/buy-now.php. If the discount code "83*)dhdf5" is used at the check-out, buyers receive an extra 20% discount.
As experts in affiliate systems, Euraffiliates is trusted software for earning money. And it has its own affiliate program, powered by its own software. Any web developer, web marketer, blogger or content writer can earn exceptional rates of commission by referring just a few clients to Euraffiliates. Euraffiliates publish more information about their affiliate program at http://www.euraffiliates.com/affiliates/affiliate-information.php.
Alternatively, for those wanting to speak to someone about the software, Lutfal Hoque, Affiliate Software Specialist can be reached from the contact page at http://www.euraffiliates.com/contact-us.php.
###