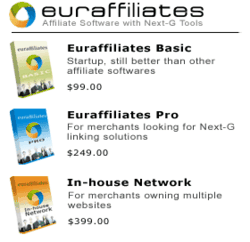 One can download it free, install it and do the essential setup works using an intelligent wizard and one-page help. It never asks to read 53 pages installation manual t
London, UK (PRWEB) October 30, 2011
Any web professional, a developer or a marketer, always hates reading a 53 pages PDF installation manual for installing a software application. It is too much painful and boring. And when this is applied for an affiliate software installation the problem intensity becomes higher because there is lot of things that may need to be explored throughout the affiliate journey.
But a merchant can start the Euraffiliates without a manual. Here is how?
(1) He downloads the source file, unzips it, uploads it, changes 2-3 lines in the configuration file and starts the setup wizard. The wizard will take 10-20 minutes to make the essential settings ready. Then he sees a progress report that guides him to do rest essential setups. The same page guides him throughout his affiliate journey to explore new tools.
(2) He can add the content to the affiliate information page and terms page in minutes. He can instruct the system to load default content with already placeholders for variable information. Just edit and save.
(3) He can easily do the sale and direct link integration following the on-page help.
Now the merchant is free to ask his affiliates to place an easy & direct link (http://www.yoursite.com/any-page?aid=XX) from their websites, emails or facebook accounts.
Later, he can again come back to this progress report and explore new tools. A few of the Next-G tools are listed below
Commission Tools - Affiliate wise commission deals, affiliate group specific commission plans and lifetime commission settings
Promotional Tools - Data Feeds, RSS Feeds, Content Widgets & Refer a Friend Templates,
Advanced / Direct Links - Natural links, Quick links & SEO links (redirected)
Application Firewall - IP rules, Browser rules and HTTP rules
Paid Ads & Affiliate Networks - Manage internal affiliates (paid ads) & merging external affiliate networks
In-house Network - Setup multiple affiliate programs for multiple websites hosted at different domains.
Communication Tools - Support ticket system, broadcast message system & Send email in groups.
Free download is available at http://www.euraffiliates.com/download/eue2.4.1.zip. Anyone can download now and start today.
For more information on the software, contact the Affiliate Solutions Specialist, Lutfal Hoque, at http://www.euraffiliates.com/contact-us.php or visit http://www.euraffiliates.com. You can learn more about Next-G affiliate software tools at http://www.euraffiliates.com/features.php.
###