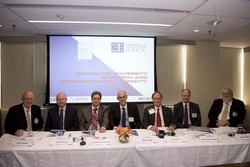 "Over the past two years, Russia has undertaken several critical steps in making the transition to a knowledge economy," Dan E. Davidson, president of the American Councils said. "The EURECA program launch raises the bar in U.S.-Russian higher education."
Washington, DC (PRWEB) October 11, 2010
Today, a consortium of one Russian - New Eurasia Foundation (FNE), and two U.S.- based NGOs - American Councils for International Education: ACTR/ACCELS and the National Council for Eurasian and East European Research (NCEEER), operating under the overall guidance of U.S.-Russia Foundation (USRF), announced the launch of a multi-year initiative, the Enhancing University Research and Entrepreneurial Capacity (EURECA) program. The program aims to strengthen Russian National Research Universities' (NRUs) capacity to commercialize the results of their research, and foster entrepreneurial activity on their campuses. The program is managed in Russia by FNE and in the U.S. by American Councils and NCEEER.
"Over the past two years, Russia has undertaken several critical steps in making the transition to a knowledge economy," Dan E. Davidson, president of the American Councils said. "The EURECA program launch raises the bar in U.S.-Russian higher education collaborations, providing a new means for substantive collaboration to advance scientific, economic and social causes."
To further the process, education should focus on the development of intellectual capital and the transfer of innovation to the marketplace. Integration of academic work and research, and cultivation of an entrepreneurial spirit amongst faculty and students are primary goals of these reform efforts, which are designed to foster favorable conditions for university research-driven intellectual property commercialization.
In 2009, Russian Federal Law 217-FZ gave Russian universities control over their intellectual property, allowing for the creation of small companies on campuses. This action dovetails with the U.S. Bayh-Dole Act, signed into law in 1980. Additionally, the Ministry of Education and Science of the Russian Federation (MOES) has designated 29 universities as national research universities (NRUs), allocating 1.7 bn rubles ($52.1 mm) per university to develop into a world-class system in the period of 2009-2014.
In support of these reforms, the USRF envisions allocating $1.5 -$2m per year, with potential increase of up to $2.5m in funding for projects to be implemented jointly by newly created U.S.-Russia university partnerships throughout the two-year pilot stage of EURECA. The partners anticipate that projects will commence in 2011. Two Russian universities, Lobachevsky State University of Nizhny Novgorod (NNSU) and St. Petersburg Institute of Information Technology, Mechanics and Optics (ITMO), were designated through a competitive bidding process as EURECA hubs. As such, they will be charged with developing and disseminating best practices in technology transfer among Russia's broader NRU community. EURECA plans to utilize international experts to support sustainable, long-term U.S.- Russian university collaboration. USRF envisions that the Russian NRUs' intellectual property will be transitioning to market by the end of 2012.
Representatives from five Russian NRUs, including NNSU, ITMO, National University of Science and Technology (MISiS), National Research Nuclear University (MEPhI), and Bauman Moscow State Technical University (BMSTU), and four American research universities – Purdue, University of California, Los Angeles (UCLA), University of Maryland, and the University of Washington (UW), attended the EURECA plenary launch event on October 8th in Washington, D.C. Among the guests were high-ranking members of the Russian and U.S. educational, state, and scientific communities, including Mark Pomar, USRF President; Dr. Vyacheslav V. Moshkalo, Counselor of the Embassy of the Russian Federation; Igor G. Protsenko, Deputy Director of the International Integration Department, Ministry of Education and Science of the Russian Federation; Dan Mote, President Emeritus of the University of Maryland; Jim Jaffe, President and CEO of the National Association of Seed and Venture Funds (NASVF) among other education and industry leaders.
"We are excited to have the opportunity to become part of the EURECA program. To date, the cooperation between NNSU and American universities has been limited to short-term professional development visits by graduate students and faculty members. EURECA is the first program that offers a long-term institutional framework for sustainable technology transfer as well as knowledge transfer between research universities in both countries and that is very valuable to us," said Alexander O. Grudzinskiy, Vice-Rector for International Affairs and Innovations in Education and Dean of MBA faculty at NNSU.
The official EURECA launch ceremony was part of a ten-day event with collaborative partner sessions held from October 4-13. The program kicked off on October 4th in New Jersey, where Russian participants attended a three-day "Essentials of Technology Transfer" course, a core training of the Association of University Technology Managers (AUTM). Two-day partner meetings followed in Washington, D.C. on October 7th and 8th at American Councils' headquarters. During these meetings university representatives from the U.S. and Russia were developing preliminary strategic plans for the initial two-year pilot phase of EURECA. The two pilots led by NRU hubs focused on the skills, knowledge, and infrastructure needed to handle the critical tasks of:

Conducting "technical audits" to determine the commercial potential of research results;
Modernizing university research management;
Engaging effectively with the business sector and government to bring innovations out of the university;
Developing the legal framework and necessary legal instruments to secure registration and patenting
of university intellectual property; and

Securing initial funding and venture capital to further develop products for market.
Founding long-term sustainable partnerships and developing modular projects were among the major topics on the D.C. meetings agenda. Through a preliminary survey offered to all universities and advanced needs assessment analysis by EURECA experts, the universities explored common interests and identified critical areas of mutually beneficial collaboration on a variety of projects. Among the outlined projects were: valuation initiatives; faculty and student exchanges; joint incubators and tech centers; venture capital participation in student start-ups; tech transfer certification programs; and incubation of professional tech transfer associations. On October 11-13, the delegates will visit partner universities to tour their research facilities, technology transfer offices, and business incubators, as well as meet with potential collaborators including researchers, graduate students, and faculty members.
"I see the future of tech transfer in Russia as very promising. Highly skilled specialists and the inherently innovative Russian spirit have yielded great results in innovative technologies. However, the culture of adopting an equitable approach to using the wealth of existing intellectual property is only starting to take roots. We see EURECA as a tool that would help our university (MISiS) create and implement research management systems and collaborative structures to bridge the existing gap between virtually unlimited intellectual property potential of Russian research universities and the presently limited ability to commercialize that potential," said Sergey V. Salikhov, head of research department of the National University of Science and Technology (MISiS).
Upon returning to Russia, the US-Russia university partnerships will engage in electronic and video-conference-supported sessions where they will continue refining their drafts of strategic partnerships and modular projects. Those modular projects will form the basis of the two-year pilot collaboration and further a long-term partnership between the US and Russian research universities.
# # #