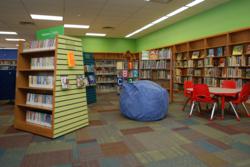 Eureka, MO (PRWEB) December 28, 2011
The St. Louis County Library will host a grand opening celebration of the new Eureka Hills Branch on Tuesday, January 10 at 10:30 a.m. The Eureka Hills Branch recently moved into a new building located at 156 Eureka Towne Center (in the Walmart Shopping Center), which is twice the size of the previous branch.
Festivities will include remarks by Kevin Coffey, the mayor of Eureka, as well as library representatives. The branch will offer refreshments and activities throughout the day including a special story time at 10:45 a.m., giveaways and more.
The new Eureka Hills Branch is nearly twice the size of the previous location, and features brightly colored walls and comfortable seating throughout. Other amenities include a community meeting room and designated areas for teens and kids. The new space will allow for an expanded collection of library materials; 30% larger than the previous building. Eight computers will be available for public use, along with multiple outlets for laptop users accessing the library's free Wi-Fi.
For more information about the Eureka Hills grand opening, please call 314-994-3300.
###