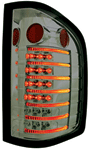 All InPro Carwear Tail Lights are DOT Approved
San Diego, CA (PRWEB) December 05, 2012
Custom Auto Trim and Graphics Inc., a leader in online car and truck accessories for the past 15 years announced that InPro Carwear will be their exclusive manufacturer of their euro tail lights and LED tail lights for cars and trucks through 2013. This announcement also brought the lowest pricing of the year just for the Christmas holiday season These truck accessories make great Christmas gifts. Having a wide variety of quality car accessories for the holiday season has always been one of the most important seasons for the company.
"Inpro Carwear euro tail lights are among the best on the market. When customers ask what a good idea for a Christmas gift would be I suggest to thems to get some of our custom Euro Tail Lights for the special people they want to give a gift to", said Mike Briglia, President of the company website at CustomAutoTrim.Com.
"Here's something else to think about. LED Tail Lights are actually green technology as far as energy consumption goes. In theory, the less electricity that the car actually needs, the less the alternator will have to work, so the if the engine doesn't have to work so hard, it will end up burning less gas." Briglia said. "InPro Carear Tail Lights are all actually DOT approved as well, so you dont have to worry about getting tickets for having unapproved equipment on your vehicle".
Euro tail lights are also known as Altezza tail lights, because they were originally introduced on the Toyota Altezza in Japan. Since the lights were introduced on the Altezza, the taillights were nicknamed "Altezza Lights", and once the market became flooded with lights for virtually all makes and models they became known simply as Euro Tail Lights.
Founded in 1997, Custom Auto Trim has been a premier global supplier of rear window graphic, or a car spoiler, and serves many industries including automotive, recreational vehicle, boats and heavy truck. Some applications of their products can be found at car dealerships including body side molding, hubcaps, custom pinstriping, truck decals, and stainless side step bars for trucks and SUV.
For more information contact Custom Auto Trim and Graphics Inc., 4747 Morena Blvd., Suite 355, San Diego, CA 92117. 858-273-5700. http://www.customautotrim.com