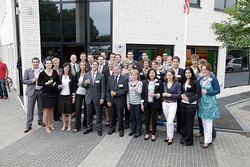 It's great being together in one building. Operating from a European bases we're saving time, money and we're staying foucussed on our Sales
(PRWEB) September 29, 2010
Thursday, the 9th of September, the mayor of Almelo this afternoon opened a new office center for six American companies. All six companies are looking to expand their business in the European market and found a cost effective and flexible solution.
All the companies had been active in the European market, but needed a base to take their European sales to the next stage. The idea to share office, lab and warehouse space with fellow Americans that are in the same stage of European development was appealing. In addition to sharing costs there was also the advantage of sharing the environment with other companies creating an environment of flexibility and synergy.
These companies have partnered with a European organization called EuroDev, which provides marketing and several other services for many US companies. Combined, these services provide the backbone for US companies looking to expand their EU operations without having to create a total infrastructure from scratch.
The Center is conveniently located in Almelo (the Netherlands), a fast growing industrial town at the German border with direct highway connection to Amsterdam and Berlin. Major airports can be reached within 1,5 hours from Almelo. (Amsterdam, Koln, Bonn, Dusseldorf)
The ability to take advantage of the shared experience of other companies in the center is a compelling and unique advantage that enables the companies to tackle problems together, rather then facing the European market alone.
Should you want to become part of this initiative or want more information on EuroDev please visit http://www.eurodev-center.com or call us at +31 (0)546 660 000
###