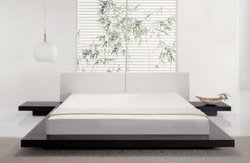 We exclusively work with factories that sustainably harvest their wood
Chicago, IL (PRWEB) July 4, 2008
Wholesale Furniture Brokers gives furniture manufactures an opportunity to connect their products to a wide range of buyers. Small retailers, interior designers, and individual customers can browse the websites for a variety of furniture styles including modern, contemporary, and traditional from a growing selection of brands. Wholesale Furniture Brokers is introducing Modloft (http://www.modloft.com), a sophisticated brand of furniture that captures the essence of European design. Furniture crafted by Modloft is designed and engineered in Italy by talented European designers. Modloft furniture is produced in Asian countries following European standards.
Giving customers of Wholesale Furniture Brokers great value, innovative European styles, and another way to help keep our environment "green", Modloft furniture has become one of the top selling furniture brands on the USA and Canadian websites. "We exclusively work with factories that sustainably harvest their wood," says Modloft's managing partner, Ted Toledano. "Our factories work with an organization, set up by several independently certified sources, that ensures the forests from which the wood is extracted is being managed responsibly."
The entire bedroom furniture line of Modloft features platform beds that highlight the Italian innovation and modern design that reflects a simple lifestyle. The top selling bed by Modloft is the Worth platform bed. It is an Asian-inspired, feng shui platform bed in a rich, wenge finish that defines a modern bedroom. The platform bed can be matched with two nightstands and a dresser. "Wholesale Furniture Brokers is working on a modern face-lift to give customers a unique and inspiring collection of modern furniture they can affordably bring into their home," says Wholesale Furniture Brokers marketing manager, Matt Holmes. "Modloft's line of furniture has given Wholesale Furniture Brokers the look that people searching for modern furniture want." Modloft's furniture line also includes dining room furniture with frosted glass dining tables, chairs, sideboards, and buffets. The living room line includes modern convertible sofas, tables, TV stands, and entertainment cabinets. Modloft is close to launching its 2008-2009 collection with even more inspirational, modern designs that have been top sellers on the Wholesale Furniture Brokers websites.
Customers of Wholesale Furniture Brokers will soon be able to receive their furniture from Modloft with new and improved packaging. "Knowing they will receive their order in good condition is always a concern for online furniture shoppers," says Jeff Penner, affiliate outlet manager for WFB, "Any new innovation a supplier adds to their packaging allows us to sell peace of mind with every product." The new "honeycomb" shipping box will begin to protect products being shipped to customers within the next 30-60 days. This new shipping package contains a double-wall exterior, with built-on corrugated carton interior. It is 1.5 inches thick and has been tested to withstand dropping from three feet. This packaging also features reinforced lids on the top and bottom to provide additional corner protection. The new packaging will help ensure that customers of Wholesale Furniture Brokers receive their furniture in perfect condition.
About Wholesale Furniture Brokers
Wholesale Furniture Brokers launched GoWFB.com in 2002, providing a revolutionary "Click and Mortar" shopping service with more than 30 independently owned affiliated furniture stores in the USA and Canada. Shoppers can now find a growing selection of styles from around the world at Wholesale Furniture Brokers. Interior designers and furniture businesses that are interested in ordering furniture available on GoWFB.com and GoWFB.ca including Modloft can sign up to Wholesale Furniture Brokers' furniture dealer and vendor program.
# # #