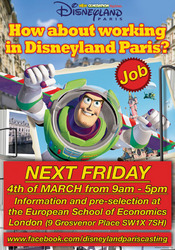 European School of Economics has the opportunity, through these recruitment events, of offering to hundreds of young people the possibility of being part of Disney's dream world
London, UK (PRWeb UK) March 3, 2011
EuroDisneyland is opening 3,000 new job positions at EuroDisneyland Paris and is now looking for new multilingual young talent across Europe. Hundreds of young talents will be selected also in the UK, as part of a European recruitment campaign that will also be presented in London next March 4th, 2011
The UK recruitment event, held at the London Campus of the European School of Economics (ESE) and organized by ESE London, will see hundreds of young multilingual talents going through an entire day of career orientation, recruitment and pre-selection that will mainly focus on attitudinal and language skills.
The new hires will primarily represent the fields of catering, hospitality and sales. Candidates must be over 18-years old and should display good language skills with a working knowledge of French. They should also be able to adapt to working with people from around the world.
Before being presented in London, the EuroDisneyland Paris recruitment event has been successfully organized in Madrid, Spain, and will be soon replicated in Italy, France and other European countries. A video of the Madrid recruitment event, organized at the ESE Madrid Campus, is available on YouTube http://bit.ly/eurodisneyland-career-day-madrid.
According to Nicole Comotti, Campus Manager at ESE Madrid, more than 500 Spanish candidates were selected in Madrid last week for the 3,000 European job positions at EuroDisneyland Paris starting in June 2011. As she added: "European School of Economics has the opportunity, through these recruitment events, of offering to hundreds of young people the possibility of being part of Disney's dream world".
The recruitment day in London for EuroDisneyLand Paris will open its doors to the job applicants next 4th of March from 9am to 5pm at the ESE London Campus in Westminster: European School of Economics London - 9 Grosvenor Place, SW1X 7SH London UK. More information on the London recruitment event are available online the ESE London website.
About the European School of Economics
The European School of Economics (ESE) is a private College of Higher Education in international business, with educational centers in London, New York, Rome, Milan, Florence and Madrid. ESE is a British College of Higher Education and a recognized Educational Institution, accredited by the British Accreditation Council (BAC), with Undergraduate (BSc & BA Hons) and postgraduate (MSc, MBA) programs validated by the University of Buckingham (UK). More info about the European School of Economics are available online at the ESE website.
ESE Press Office (International)
Press representative please contact Ms. Patricia Berth for more info and press accreditation to the European School of Economics. Email: p(dot)berth(at)eselondon(dot)ac(dot)uk - Tel: +44 207 245 6148
###