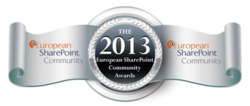 It was a pleasure working with NJ CSC and we are honored to be recognized by the SharePoint Community for our dedication to continually improving the end-user experience through enhanced Search functionality - Kevin Ells, marketing director
St. Louis, MO (PRWEB) December 19, 2012
KnowledgeLake, the market leader in Microsoft SharePoint ECM solutions, is proud to announce their nomination for "Best Search Solution 2013" by the European SharePoint Conference. This prestigious award seeks a company that delivers the best search solution and enhances the search experience, providing users with the content and the people they need quickly and effectively. KnowledgeLake is nominated for their work with the New Jersey Civil Service Commission (NJ CSC).
"We are delighted to have this unique opportunity to showcase one of our best, competitive SharePoint stories. It was a pleasure working with NJ CSC and we are honored to be recognized by the SharePoint Community for our dedication to continually improving the end-user experience through enhanced Search functionality," said Kevin Ells, marketing director, KnowledgeLake.
In 2012, KnowledgeLake successfully completed Phase I of a multi-phase ECM engagement with the NJ CSC. The objective was to implement ECM for their "Selection Services" division with SharePoint 2010 and KnowledgeLake technologies. KnowledgeLake Imaging Search was the cornerstone to the success of this implementation, as users at NJ CSC can now find information faster, consistently and with minimal training. KnowledgeLake Imaging Search enables the NJ CSC Online Application Submission (OAS) administration staff to perform exact relevant searching using a combination of SharePoint full-text keyword and column managed metadata properties.
The European SharePoint Community Awards provide an avenue for Europe's best SharePoint Professionals to stand out from the crowd and get the recognition they deserve from a vibrant community of their peers. These awards identify leadership, recognize excellence, encourage creativity and celebrate those who drive the European SharePoint Community with extraordinary passion, talent and skill. Following a hugely successful inaugural year in 2012, the European SharePoint Community Awards are back and with an increased number of award categories. Winners will be announced at the European SharePoint Conference party on February 6, 2013.
To read the full Case Study and vote for KnowledgeLake, please visit: Best Search Solution 2013.
About KnowledgeLake
KnowledgeLake develops document imaging related products and solutions for Microsoft SharePoint. KnowledgeLake extends the ECM capabilities of SharePoint, enabling businesses to reduce mailing costs, streamline operations, and achieve regulatory compliance using familiar Microsoft products that most businesses already own and use. KnowledgeLake products and solutions are deployed globally in thousands of organizations in many different horizontal and vertical industry sectors, including: public sector, healthcare, financial services, transportation and more.