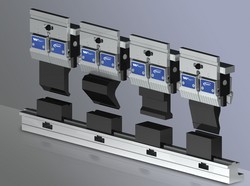 White Bear Lake, Minn. (PRWEB) December 18, 2007
Wilson Tool International has introduced an innovative way to drastically trim setup time from multi-stage bends on press brakes. The new European-style Staged Bending Tooling allows one press brake operator to easily carry out a complex series of bends in a single machine setup, freeing up more time, employees and press brakes for other jobs.
Completing multiple bends in one press brake setup by conventional means requires the time and skill to use special risers and shims to achieve a common shut height (the total height of the punch and die when they come together) across all punch and die sets. But Wilson's Staged Bending Tooling has common shut heights built in, eliminating these complicated setups. Thirty-degree, offset, gooseneck and other tools are installed in succession in one press brake without fear of punches and dies colliding.
Advantages of Staged Bending Tooling
Many American-style press brake fabricators already use Wilson's Staged Bending Tooling and have seen the advantages of staged bending approach. The machine operator easily arranges a series of three, four or more sets of punches and dies, depending on the job requirements and the brake's bed size. The operator then takes each blank through the sequence of bends (stages) to completion, handling the part only once to significantly improve throughput. This "one-stop" bending provides a significant savings in time and resources.
Complex parts requiring several bends are an ideal target for staged bending because the process creates a striking reduction in part handling. Short runs become more cost-effective with staged tooling because fabricators don't have to depend on large batch sizes to achieve efficiency.
About Wilson Tool International
For more than 40 years, Wilson Tool International® has been a leading provider of tooling solutions that enhance the performance of sheet metal fabricating machinery worldwide. Wilson Tool is the world's largest independent manufacturer of tooling systems for punch presses, press brakes and punch and die components for the stamping industry. Products are manufactured at the company's world headquarters in White Bear Lake, Minn., USA, at their European facility in Swindon, England, and now at their site in Shanghai, China, which serves a growing customer base in that region. Wilson Tool's network of sales engineers and international distributors operate in virtually every industrialized nation around the globe.
# # #