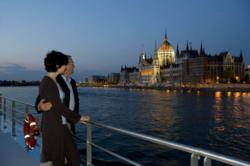 Single travelers don't have to be penalized to enjoy a European river cruise this year or next.
Los Angeles, CA (PRWEB) June 02, 2011
TravelStore is reaching out to single travelers to offer exciting European river cruises without any single supplement charge on select departures on 2011 and 2012 itineraries.
"Single travelers are a growing market, and they often have to pay 125% to 200% of standard per-person fares in order to enjoy a cruise vacation," said Dan Ilves, Vice President of TravelStore. "This promotion waives all such supplements, offering single travelers a level playing field, plus the privacy of their own accommodations." The river cruises featured are with award-winning Uniworld, which this year was the only river cruise company rated among "World's Top Cruise Lines" by readers of Conde Nast Traveler.
TravelStore has 15 itineraries throughout Europe this fall with over 40 departure dates, including the popular Christmas market cruises. The itineraries include popular cruises on the Rhine and Danube, cruising in Portugal on the Douro, as well as itineraries in Burgundy and Provence. For 2012 there are an additional 15 itineraries with over 40 select departures without any single supplement.
Uniworld's unique style of river cruising includes complimentary shore excursions included in the price, gourmet-quality cuisine with wine served with lunch and dinner.
As availability is limited, single travelers considering a river cruise vacation are advised to plan now. For more information contact the TravelStore cruise experts at TSCruises.com or call 1-800-821-4271.
About TravelStore
Established in 1975, employee-owned TravelStore is one of the nation's largest travel agencies headquartered in California. For more information, visit TSVacations.com.
# # #