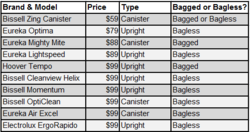 The ideal dorm-room vac is lightweight and small in size, not to mention easy to use and cheap to maintain.
Quincy, MA (PRWEB) August 26, 2012
If you or your son or daughter are heading to school in the fall, you've already started stocking up on dorm-room essentials. However one of the most important college necessities is often overlooked - a great vacuum cleaner. Searching for the right cleaner can be tedious and exhausting if you aren't sure what to look for. The ideal dorm-room vac is lightweight and small in size, not to mention easy to use and cheap to maintain. eVacuumStore.com has compiled a list of vacuum cleaner reviews with the top 10 Back-to-School vacuums based on these guidelines.
At the top of the list is the Hoover Tempo, a lightweight bagged upright vacuum that is perfect for low to medium pile carpeting, such as what is used in most dorm rooms and off-campus apartments. The Tempo boasts a 15" cleaning path and several on-board tools. Next on the list is the Bissell Cleanview Helix, an upright vacuum that uses HEPA filtration to remove airborne allergens. The Cleanview Helix is bagless and weighs only 16 pounds making it an ideal candidate for a dorm-room vacuum.
If you prefer a canister, the Eureka Mighty Mite is perfect for low to high pile carpeting. Another lightweight machine, the Mighty Mite weighs only 11.7 pounds and offers a six-piece attachment set for cleaning any surface and is covered under a 1 year warranty. Another great canister vacuum is the Bissell Zing which is available in both bagged and bagless models. The Zing offers an automatic cord rewind that is easy put away making it ideal for the average student.
There are many other vacuums that are great for cleaning your room at college. For those who prefer a bagless cleaner, eVacuumStore recommends the Bissell Momentum, Eureka Optima and Eureka Lightspeed. These upright vacuums are extremely lightweight and offer various filters to remove harmful particles from the air. If you prefer a bagless canister vacuum, Eureka offers the new AirExcel canister which uses HEPA filtration. Bissell's OptiClean canister is also excellent for dorm-room cleaning; both are very lightweight. For quicker clean-ups, the Electrolux ErgoRapido 2-in-1 stick and hand vacuum is a battery operated bagless vacuum that is extremely easy to use.
"There are plenty of great back-to-school vacuum cleaners available for less than $100 dollars" says Zack Currier, a vacuum cleaner salesman at eVacuumStore.com, "it is important to consider the size of your dorm-room or apartment as well as the type of floors you'll be cleaning when buying a vacuum for college".
About eVacuumStore.com:
Founded in the early 2000s, eVacuumStore.com is the largest online retailers of vacuum cleaners, repair parts and accessories. The site was built around customer service and the idea of offering the detailed parts diagrams and schematics that were once only available to official warranty centers to the consumer to fuel Do-It-Yourself vacuum cleaner repairs. For more information on the entire Miele product line, visit eVacuumStore.com.