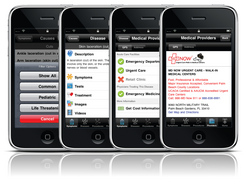 We are excited to be the first urgent care center in the country to pilot this revolutionary program that allows our patients to tell us that they are coming and what medical condition we can expect to encounter when they arrive
Denver, CO (Vocus) October 27, 2010
Healthagen® – the developer iTriage® -- a free, consumer-based healthcare application is piloting a new feature with MD Now®, the first urgent care centers in the country to roll out pre-registration via a mobile phone application. Palm Beach County residents can now click on the iTriage application for their illness or injury, find an MD Now Urgent Care Center nearby and do a quick registration, all from the convenience of a preferred mobile device.
Now, when a consumer uses the iTriage application to locate an MD Now urgent care center, the user will have the option to click "Pre-Registration" from the provider search or deep view pages in which MD Now urgent care centers are highlighted. From there, the patient will receive a form in which they will enter their name, phone number, symptoms experienced, vitals and any other information the patient wants the doctor to know, prior to arrival.
By using the pre-registration field from a mobile device, the patient will get bumped to the head of the line and will be the next called after arriving. MD Now was one of the first urgent care centers in Florida to utilize the iTriage interactive technology, which empowers consumers to evaluate symptoms, learn about the possible causes, find appropriate locations for treatment, as well as obtain cost information based on the type of facility. Now, consumers have an even greater reason to use iTriage when locating an MD Now facility.
"We are excited to be the first urgent care center in the country to pilot this revolutionary program that allows our patients to tell us that they are coming and what medical condition we can expect to encounter when they arrive," said CEO and Medical Director of, MD Now Urgent Care Walk-In Medical Centers, Peter Lamelas, MD, MBA, FACEP. "By providing this convenience to our community, we remain the top urgent care center providing the latest technology to patients for minor emergencies."
With six urgent care centers in Palm Beach County, MD Now Urgent Care Walk-in Medical Centers are setting the pace for the urgent care needs of the community.
"iTriage continues to stay on the cutting-edge of mobile communication that helps healthcare consumers find the most appropriate level of care and communicate more effectively with providers about their medical conditions," said Peter Hudson, M.D., CEO, Healthagen. "Healthagen is delighted that MD Now is taking the reigns and leading the charge with providing patients in Florida this interactive mobile capability."
About MD Now
As one of the largest providers of urgent care walk-in and occupational (workers comp) medical services in South Florida, MD Now Urgent Care has six medical clinics throughout Palm Beach County: West Palm Beach, Palm Beach Gardens, Lake Worth, Royal Palm Beach / Wellington, Boynton Beach and Boca Raton, with plans for two additional facilities next year. Each location is open 365 days a year from 8:00am to 8:00pm, including evenings, weekends and holidays.
Owned and founded by Peter Lamelas, MD, MBA, FACEP, all MD Now clinics are full service urgent care centers and provide a wide spectrum of services, treating adults as well as children. As a "Certified Urgent Care Centers" by the Urgent Care Association of America, MD Now provides a faster and much more affordable alternative to the emergency room, since patients are seen, treated and released in less than an hour and they are more convenient and comprehensive than just a doctor's office.
About Healthagen
Healthagen is a global developer of healthcare information software that empowers patients to make better decisions and gives healthcare treatment facilities improved access to additional patients. iTriage helps consumers evaluate medical symptoms, lists potential diagnoses and provides access to appropriate treatment locations. The proprietary healthcare search engine integrated into iTriage surpasses any conventional search engine for point of care healthcare decision-making. Emergency medicine physicians developed iTriage and co-founded Healthagen – a privately held company headquartered in Lakewood, CO.
###